---
19:30 21, 23 Apr.
Kakushin Tomoyoshi
hanaichikan
SATSUMA Lute cocnert & lecture
featuring ATSUMORI TAIRA (1169-1184)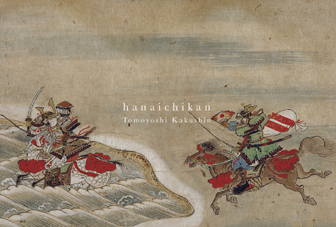 ---
27 Apr. - 8 May
Gallery éf 8th anniversary presentation
new logo, new image, new menu
vote on new éf logo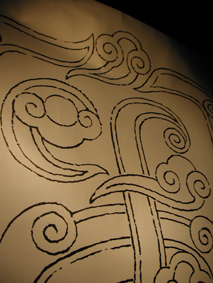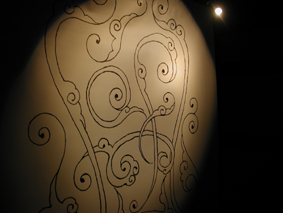 What do you wanna see?
What happened to this photograph by Gerhard Klocker
click here for the detail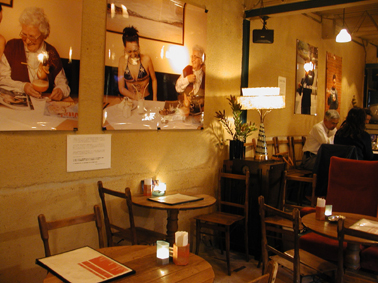 new menu at cafe
fine homemade meal with Chinese antique dishes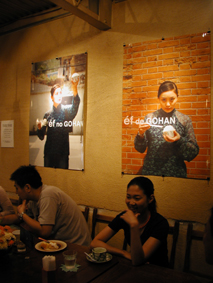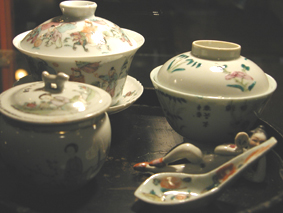 ---
14 May/ 5 Jun.
Kenji Kobayashi
lecture
Where Thought Meets Form
vol.1 curiosity; long before the birth of works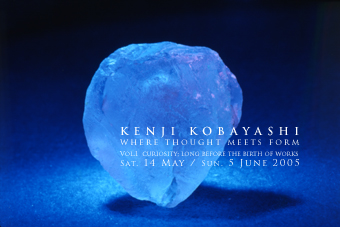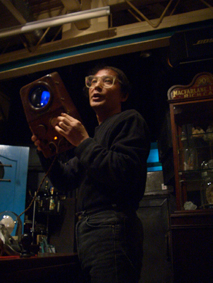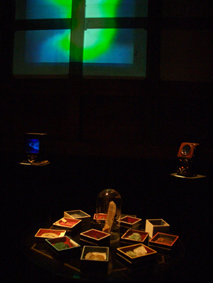 ---
10 Jun. -18 Jul.
Alexandre Imai
paintings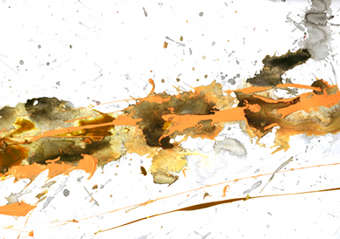 ---
19:30 21, 23 Jul.
Kakushin Tomoyoshi
hanaichikan
SATSUMA Lute cocnert & lecture
featuring Nichiren Shonin (1222-1282)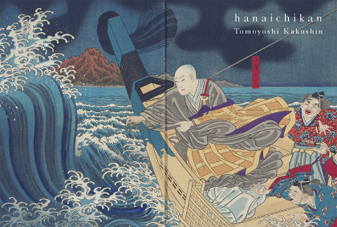 ---
5-28 Aug .
Toru Ukai
photograph
"From the Terminal: Guangzhou Train Station, 1997"
supported by: FUJIFILM IMAGING CO.,LTD.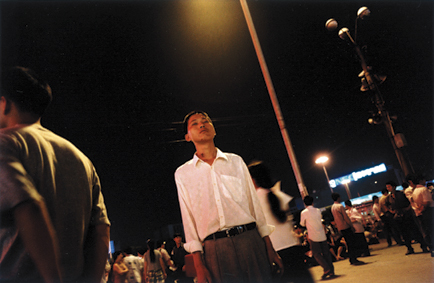 During the 1990sin China,peasants from the countryside poured into big cities where economic growth inspired great exuberance.Exemplary of this phenomenon was Guangzhou, the capital city of Guangdong province. Around that time, the peasants, on the scale of tens of thousands of people, lived in the open air with only the barest necessities, in front of the Guangzhou Train Station.
While Toru Ukai, wandered in front of the station every night and concentrated on taking photographs of the people in heat, sweat and exhaust fumes, he kept feeling a strange sense of loss, feeling hollow, by having a camera. In spite of his consciousness, the photographs were as beautiful as a nightmare.
In 1998, this photography series won Encouragement Prize at the 7th New Cosmos of Photography Exhibition. Around sixty works will be exhibited including unpublished works. This is the first sole exhibition of Toru Ukai, a photographer based in Tokyo and Shanghai.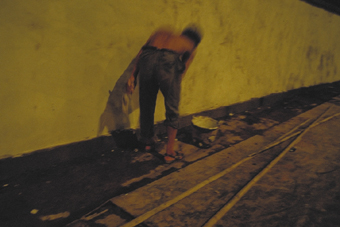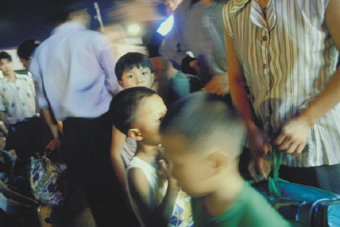 From the Terminal: Guangzhou Train Station, 1997
text by Toru Ukai July 2005

This is one kind of record. The photographs in this exhibition are a record of the "mangliu" scenery in recent Chinese history.
The Chinese expression "mangliu" refers to the phenomenon where peasants from the countryside poured into big cities like an avalanche. This phenomenon was seen in costal areas where economic growth during the 1990s inspired great exuberance. Exemplary of this phenomenon was Guangzhou, the capital city of Guangdong province.
The train bound for the city signified a longing for the future, but once the train arrived at the city, the stark reality struck them. Around that time, the "mangliu" peasants, on the scale of tens of thousands of people, lived in front of the Guangzhou Train Station.
They left their hometown without any chance of success, as the expression "mangliu", which literally means "unplanned flow", suggests. All they could do was just to stand rooted to the spot. They had no idea where to go. In spite of that, they had to live on. It was the only thing that was certain. They started to live in the open air with only the barest necessities.

It is said that during the life of a Chinese peasant, they might never move outside a ten-kilometer radius. For these people, the city of Guangzhou, which was several thousand kilometers from their hometown, might as well be a foreign country.
In the meantime, I stayed there and watched them as a stranger like these people. The difference between them and myself was ridiculous and callously real: I had money and they had none. I was a representative of a company and stayed at a comfortable five-star hotel. And they lived on the road of the southern country in heat, sweat and exhaust fumes. However, that kind of difference might be patently too obvious to mean anything.

Around that time, I felt that the essential difference that divided them and me was a much simpler thing. Only I had a camera. And the sense I most strongly felt while taking photographs in the middle of these people was embarrassment. I was so ashamed to have a camera. Too ashamed. I kept taking photographs battling this sense of humiliation.
On the other hand, these people on the other side of the viewfinder were living a much more complicated and existential life. How will they live through tomorrow? All their concentration and thoughts must revolve around this question of survival. I thought this solemn obsession about survival made these people a model of "pure existence."
While I concentrated on taking photographs and forgot about myself every night, I kept feeling a strange sense of loss, feeling hollow, by having a camera. Taking photographs is actually a kind of mental crisis.

Taking photographs, checking the developed film and taking photographs. In this simple repetition, I still noticed one unexpected thing. Those photographs were beautiful.
I had never intended to take beautiful photographs, because I had never thought that these people in grime and sweat were beautiful. In spite of such a recognition, those photographs were beautiful. Those photographs were as beautiful as a dream.
Our world is full to the brim with ugliness, despite this people champion beauty, but such bandying about only produces more ugliness. No matter how people intend to create beauty, we only trace the boundary of our own aesthetics.
I think that natural beauty always exists on the other side, on the other side of the viewfinder. Our eyes are too cowardly and despite our vision we desire not to see. On the contrary, photograph sees everything. That is why photograph always goes beyond me.

Eight years ago in front of the Guangzhou train station, my photography touched the "pure existence" of these people going beyond my narrow consciousness. And pure human existence always includes beauty that, despite our sensibility, in our daily life we pass over by habit. This beauty is called dignity.
---
Toru Ukai / Photographer
Engaging in photography and writing based in Tokyo and Shanghai.
2002.4 ~ present
Serialization of photo and text about China on the magazine, NHK TV Chinese Conversation Text.
2000
Started his activity as a freelance photographer.
Participated a photo exhibition "LOVE & POWER Borderless World".
This exhibition was held at SPIRAL, in Omotesando, Tokyo and traveled to Hiroshima and Sendai.
1998
Won Encouragement Prize at the 7th New Cosmos of Photography Exhibition.
1994~1997
Stationed in Guangzhou city, Guangdong province, China, as a representative of the publisher.
1985
Started to work at a publisher. Belonged to the branches of marketing, product development and sales.
Graduated from Japanese Literature Major, Faculty of Letters, University of Tokyo.
English translation: Takeshi Yamaguchi (Gallery ef), Aaron Kerner
---
22 Sep. - 16 Oct.
Susan Pietzsch


Kostbarkeiten - kakegae no nai mono
contemporary jewerly
German Year in Japan
supportend by: ifa, Ministerium fuer Bildung, Wissenschaft und Kultur Mecklenburg-Vorpommern
Landkreis Bad Dobern, Schmuck2, THE NOMURA CULTURAL FOUNDATION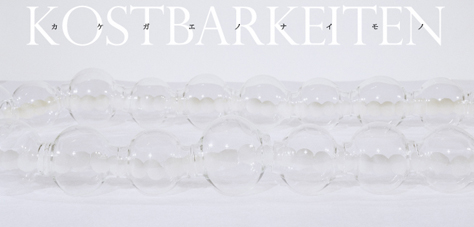 flyer design: Hiroki Masunari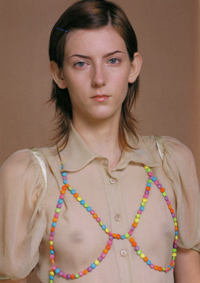 photo: Qvest
In the exhibition of the German artist Susan Pietzsch there is a reference to its specific spatial circumstances. The gallery space is situated in a former warehouse (called "KURA" in Japanese). This space was traditionally used for the storage of valuable objects and treasures. In this exhibition, an installation of sugar objects and jewellery will be referring to this background.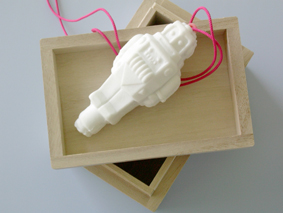 Susan Pietzsch's intervention on the theme of sugar conveys a complex reflection on the subject of sugar objects, their meaning and sometimes bizarre incarnations in various cultures. Sugar is one of the first industrially produced foodstuffs and, at least since the 19th century, a pleasure drug for the masses. Though it is true that pure sugar today is increasingly less consumed in private households, industrially produced, sugar containing foods, like soft-drinks, cakes, ice cream, jam and an almost inexhaustible variety of ever new sweets, make it through surreptitiously and, in a similar way, sugar substitutes are still, as always, an important consumer article. Besides, sugar objects still have their traditional religious usages, be it at the All Souls' festivities in Mexico with its death skulls made out of sugar icing; the cult of the dead in Japan, with its grave offerings made from sugar; or in the realm of European traditions, at the Three Kings' festival.
Instead of imitating the often-loud colors of the originals, the works of the artist appear in the pure white monochrome of the material they are made from: refined sugar or sugar substitute. Striped bare of the colors, it develops a remarkably alienating effect, which casts a different light on the form, emphasizing it and sometimes granting it an unexpected aesthetic. Moreover, this strategy to reduce the colorful variety of the sugar items to their main ingredient, distinctly emphasizes the strange modes of diversification the sugar industry deploys to market their monotonous, dull comfort foods, by use of varying colors, shapes, packaging and "extras" with predominantly dubious benefits.
Susan Pietzsch's work distinguishes itself by being simultaneously conventional, wearable jewellery , and also something that functions as an autonomous object or installation, which then, presented independent of the body, is not conveyed as adornment but as an artistic statement.
In her artistic work, another aspect brings in an additional alienating effect: the dimension. Installations with huge Smarties made from Isomalt (a sugar substitute) that seem like oversized bars of soap; or montages of countless white, plastic-trash give-aways from ice-cream packages, cast from a sugar substitute, which translate the sweet raw material into an aesthetic, which goes from the seductively magical to the astonishingly irritating. While the monstrous Smarties appear truly inedible, hard to digest, the sphere made from partly melted plastic-trash-figures displays the magic of molded frozen (sugar-) water and refers to the luxurious ice sculptures of festive banquets. All this doesn't happen in a didactic-ponderous way but inspirations are imparted in a refreshing, wide-awake, and somewhat laconic manner, and are designed to open up unusual visual perspectives on sweets.
A catalog will appear parallel to the exhibition. It consists of a preface that introduces the theme of the exhibition as well as containing additional publications about contemporary jewellery in Germany. For this catalog, the artists Susan Pietzsch and Valentina Seidel will collaborate on photographic work in Tokyo. The catalog will be part of the previously published series of catalogs of (Schmuck)2 e.V..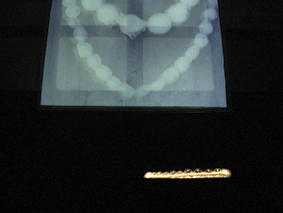 display (Gallery éf)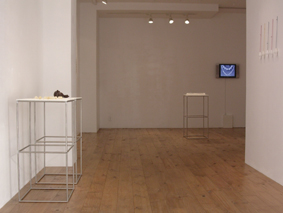 display (Studio J)
susan pietzsch (1969)
susan pietzsch started to exhibit her work in 1997, featuring wearable jewellery pieces. in parallel with this she started working with autonomous objects, independent from the body, presented as an installation where the adorning aspect steps back in favour of an artistic statement.
Susan pietzsch founded schmuck2 in 1997 and since 2001 has installed a continuous international exhibition programme. she has worked in different collaborations, as schmuck2, with a focus on unusual, diverse takes on the themes of "jewellery", combining people from different cultural backgrounds such as artists, designers and art-theorists. her projects shape a multi-faced image for contemporary styles of jewellery, using unconventional concepts that move between fine and applied arts.pitzsch completed her study at the academy of design and applied arts in heiligendamm/ wismar.
www.susanpietzsch.com
www.schmuck2.de
---
21 - 23 Oct.
AFS experiment
theater performance + raeding
Blind Spot