26 Dec. 2001 - 14 Jan. 2002
Byakko Kashiwagi
The world of Kuo - Sumi MANDALA
calligraphy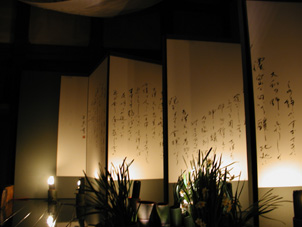 Calligraphy is one of Japanese traditional art.
Byakko Kashiwagi gets her own perspective on the traditional calligraphy and creates new style called as "Sumi-art". Since she left traditional calligraphy world in '92, she established characteristic view of the world with drawing and poem.
She has traveled to Yaku island, Mt. Fuji, Golan Heights and so on. Spreads a sheet of paper on the ground and takes a brush, freely draws the imagined scenery that was evoked on the spot.
She draws poem and abstract painting with black ink. For this exhibition, she made a lighting installation and displayed 30 works that were made in Nepal and India, where she stayed for two years to learn the Sanskrit and creates the world of "Kou"(it means sky and also emptiness) with her own Sumi-art and lighting art..
She collaborates with the artists and musicians who belong to different categories. She also takes in the Japanese classical dance to the painting performance.

Live Painting
date:31 Dec. 2001
time:23:30-
with Didjeridu player, Gyoten Matsuzaki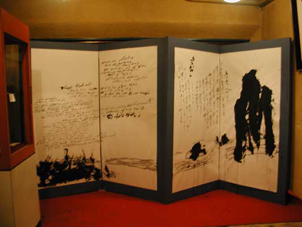 Live Painting vol.2
date:14 Jan. 2002
time:20:00-
with percussion group, LOTO BOMBA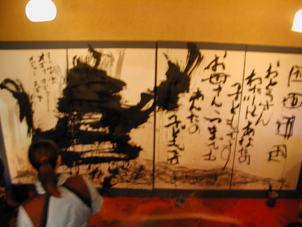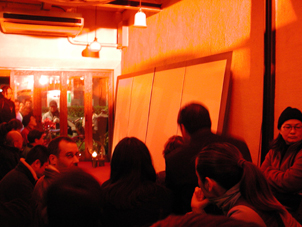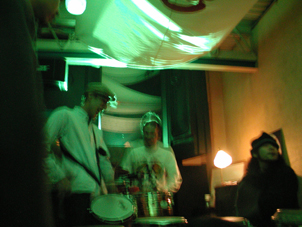 ---
Xchange project
1 Dec. 2001 - 10 Jan. 2002
Masao"BEN"Taniguchi
A Text Named the Bible Design for Function
in Amsterdam



graphic design
produced by Mahiro/ Gallery ef
cooperated by Conscious Dreams/ Amsterdam
printed in Japan/ ART ARIAKE
All texts are Biblical quotations.
All characters are written in Japanese.
Characters are designed symbols to transmit meanings.
Japanese characters consist of ideograms and phonograms.
The plain font transmits only the meaning of the characters.
The designed font gives symbols designed to add image to character.
The layout is an arrangement designed to transmit the image of the font designed characters.
A sophisticated layout amplifies the image of the text.
Graphic design transmits the meaning and image as a message.
Graphic design is a function for communication.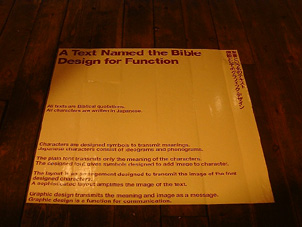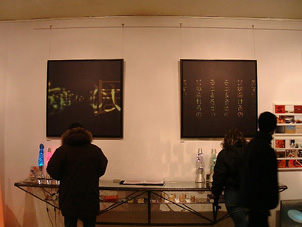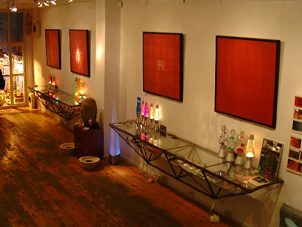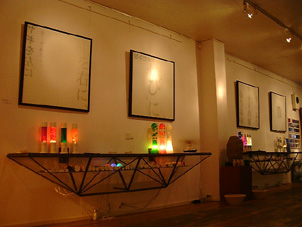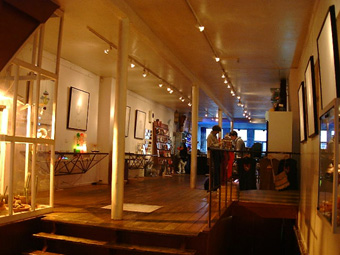 ---
19:30 17/ 20 Apr.
Kakushin Tomoyoshi
hanaichikan vol.1 spring
SATSUMA Lute concert & lecture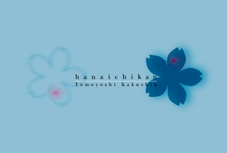 flyer design: Gallery éf


photo: Gerhard Klocker
Japanese lute player, Kakushin Tomoyoshi, introduces the history of his instrument and the world of Japanese Beauty.


logo design: Gallery ef
---
25 Apr. - 19 May
Gallery ef The 5th Anniversary Exhibition
Sharon Gershoni


Silent Nature
photograph
50YEARS ANNYVERSARY OF DIPLOMATIC RELATIONS ISRAEL-JAPAN official event
supported by: Israel Embassy/ FUJI FILM Co.,Ltd.
cooperated by: Artist Space Co.,Ltd./ ben graphique/Misato Offset Printing Co.,Ltd.
special thanks to: Byakko Kashiwagi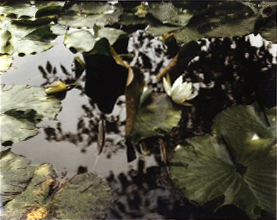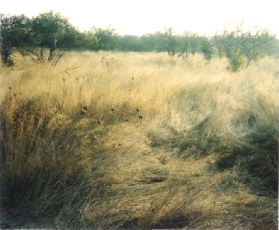 Sharon Gershoni has photographed Israeli landscapes which are not grandiose nor rich, which just exist as they are simple, plain and dry. By applying a special developing technique, she raises every detail and all the light and shade to the surface like sculpting. Thus thousands of elements of life and time that human eye can never catch are etched in her work. By stemming time, we could come to a stand still, could look deeply into "a little drama of life". Her work is silently telling us, that even a small stone lying around could be a metaphor for all the beauty in this world.
She has expressed the landscape as a still life in her former work. It is a delicate ripplet on a lotus pond - drawn by a small bug, that she absorbs a motion on her photograph for the first time in Japan. The surface reflects the real world like a mirror and masks the real world that also exists beneath the water. Each is divided into the world of a visible light and an invisible darkness, however both are reality. She puts a focus not onto a large gorgeous outblooming flower but onto every real-image and illusion, and every drama of life which exists there. For her, the lotus; which has been revered in all countries as a holy flower or as a symbolic beauty, is one hope having no answer, floating just between the real world and the imaginary world, and eliciting invisible things into the real world like a gate.
Today the world is threatened by repeated conflicts, how should human take a pause, feel, and how should we find hope ?
20 pieces of pictures of grasslands and desert in Israel, and a lotus pond in Japan are exhibited.
---


3 Jul. - 1 Sep.
Wang Chao ying TOMPA Character Exhibition
stream of the wind, feeling of the wind
In Yun Nan province in China, where shares borders with Tibet, India and Myanmar, there are many kinds of ethnic minorities that have nurtured their own original folkways, culture and religion. Naxi tribe is one of those minorities and living in Li Jiang prefecture where ruled by magnificent nature.
Jinsha Jing River threads its way through mountains. Yu Luon Xue Shan Mountain, wrapped in a dense fog, stretches to Himalayan Mountains. Sheer cliffs command a view of Yangzu Jiang River below.
The world consisted of that illusory landscape brought their original life philosophy to Naxi tribe. A man and a woman who met their beloved partner, indicated by fate, join hands together and give their bodies back to nature. Both of two believes that their spirits will reach to the another world, neither heaven nor hell.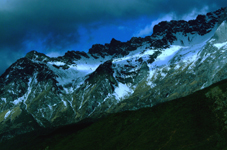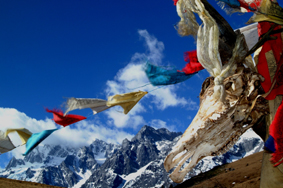 photo: Wang ChaoYing
Wang Chao-Ying wrote Naxi's legend in Tompa characters that is their own letters. In the exhibition of "The stream of wind, The feeling of wind", Wang will exhibit the original text of the story using 6000 letters of Tompa characters and engraving seals of Tompa characters. Also the photographs of life of Naxi tribes and nature in Yun Nan province will be exhibited.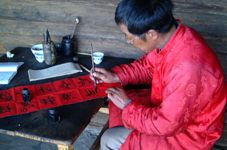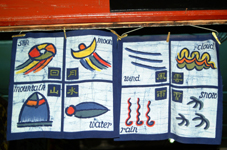 photo: Wang ChaoYing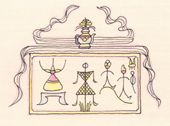 Tompa Characters
The priest of Naxi tribe's primitive religion, Tompa religion, is called Tompa. Tompa uses Tompa characters to write their scriptures. Tompa religion was established in the seven century and the character also was born in the ten century. Mysterious Tompa character is not changed for over 1000 years. The main feature of Tompa character is using artistic pictographic characters. The order of characters goes from left to right, and also placed above and below. On the characters, the personality of writer is reflected. And the interpretation of the texts are slightly changed depending on readers. Tompa character is very tolerant and can accept the changes that results from the difference of artistic taste, sensibility, religious values and sophistication.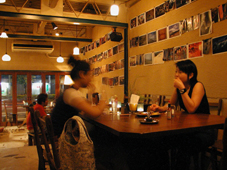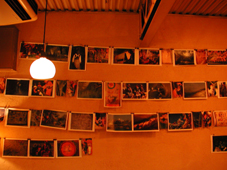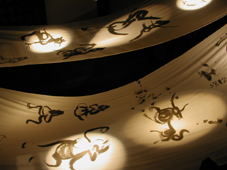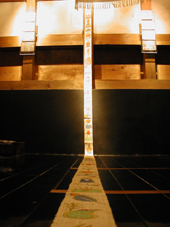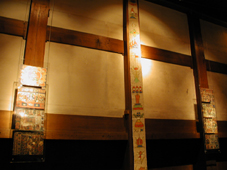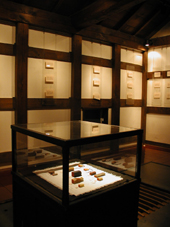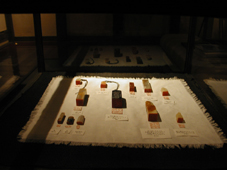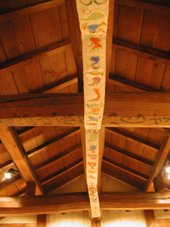 Wind text by Wang ChaoYing
Wang Chao Ying biography
Music & Visual Live Show at BAR
Live performance of music and visual images by Kin Taii
Stream of the Wind Sun. 7 July
Feeling of the Wind Sun. 1 September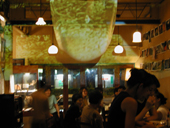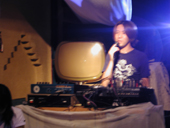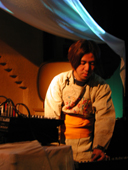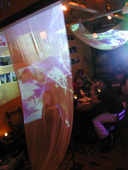 ---
19:30 1/ 3 Aug.
Kakushin Tomoyoshi
hanaichikan vol.2 summer
SATSUMA Lute concert & lecture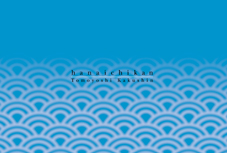 flyer design: Gallery éf
---
11 Sep. - 14 Oct.
Dave Besseling


ce qui entre doit sortit - WHAT GOES IN MUST COME OUT
Tokyo Diary
drawing at cafe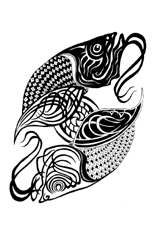 Everyday I go out into the city
with my chosen frame of mind
in the same way I pick clothes from my closet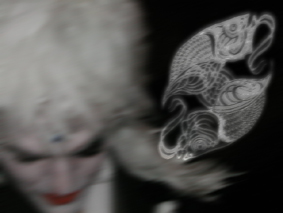 5 Oct.
LiVE TATTOO SHOW: STARRING
tattooist -- TAKA (from Solid Tribal)
VJ -- Kin Taii & Mahiro
DJ -- Diet-Mar
model -- Olly
guide -- Togen
hair & make-up -- Noriko Tada
shop -- KETO (Leather & Silver work)
tattoo design -- Dave Besseling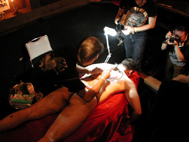 ---
MUSIC MONTH Forest Under The Moonlight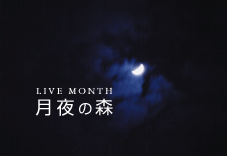 image photo: Hideki Shiozawa
starring
LOTO BOMBA
percussion
sat. 12 Oct. / sat. 9 Nov.

---
Sanyo Kanda
storytelling
wed. 16 Oct.

---
Ekaterina Korobova
Russian Folk Song
Thu. 24 Oct. / Thu. 7 Nov.
---
TENKU [Gyoten+Hana]
Didjeridu, Calimba (African instrument), Chinese Fiddle & Percussion
Mon. 4 Nov.
---
Kazue Tajima
Shinto Fiddle
Wed. 6 Nov.
---
Karah & tsune
Gender (Bali instrument) + Vocal
Sun. 10 Nov.
---
Kakushin Tomoyoshi
hanaichikan vol.3 autumn
SATSUMA Lute concert & lecture
Thu 14/ Sat 16 Nov.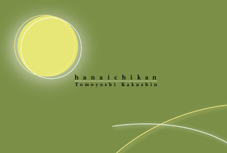 ---
19:30 17/ 20 Apr.
Kakushin Tomoyoshi
hanaichikan special issue UCHIIRI
SATSUMA Lute concert & lecture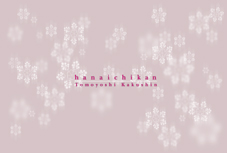 ---
15 Dec.
Atsushi "UCCI" Uchino
Droppin' Lyrics (68'30")
film preview
This is a documentary film on a Japanese hip hop musician grown up in Tanzania, London, and Berkeley California. While most of the younger generation in Japan seem to be away from the issues of world peace and their nation, he thinks earnestly about them and his own identity, which attracted me very much and led me to trace the world of his lyrics. Through this film, people will encounter "a new type of Japanese.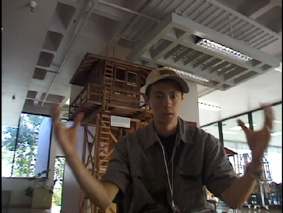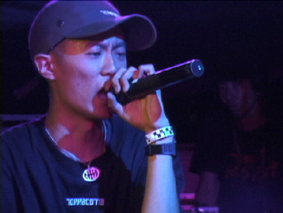 "A friend introduced me to a profound, aggressive guy, SHINGO2. He had cultivated his artistic creativity since he was 15 years old around Berkeley/ Oakland, a diversity of ethnicity. One day I was shocked by his rap performance held at a park in Berkeley. The title of the performance was "Pearl Harbor" which is a hidden history for the Japanese people. Why is this Japanese guy speaking out about "Pearl Harbor" ? Then I started to do research on his background and the world of his lyrics.
After a while, he took me to a pilgrimage to Tule Lake, one of the biggest internment camps for Japanese and Japanese-Americans during the WW2. I Observed all the way what he was watching, listening, and feeling. In fact, he looked enthusiastic about absorbing everything during the pilgrimage.
After that, I had not heard from him for a long while. On September 11, 2001, people all over the world witnessed that "History repeats itself," and he was in Japan at that time to create music. A couple of days later, he finally emailed me with a lyric entitled "My Nation" as a reaction to the tragedy, searching for world peace."

Director/Producer Atsushi "UCCI" Uchino

Shingo02 http://www.e22.com/