0:00AM Wed. 1 Jan. -- Mon. 3 Feb.
Kin Taii + Gallery ef PRESENTS
TAO - Yin-Yang de Xiang
visual & sound installation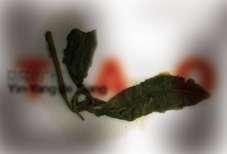 flyer design: ben graphique
Visual artist Kin Taii & Gallery ef are presenting special ambient which is based on Taoism.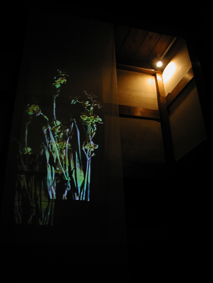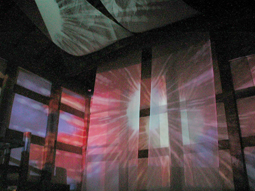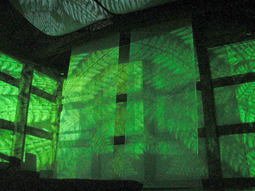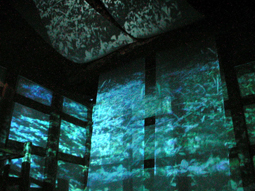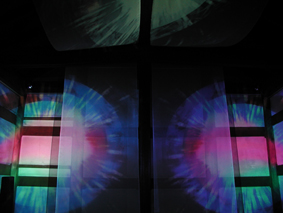 KIN TAII
As a contemporary artist, Kin Taii is eager to express his specific vision in visual images and music, synthetically taking advantage of media with the most advanced technology available. He utilizes his specific methods as well as his versatile imagination as ways of expression. He defines the universe as multiple factors of possible expression, insisting that everything in nature originates life and the roots of this origins connect the universe. The above ideas coincide with the origin of his soul. He places great importance on the sense of response to nature and harmony between the ins and outs of spirits. Kin Taii is an outstanding artist who reconfirms himself by immersion into nature and also draws inspiration from the culture of the city where has lived for many years.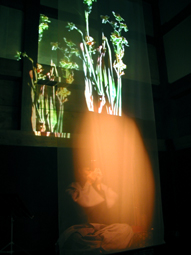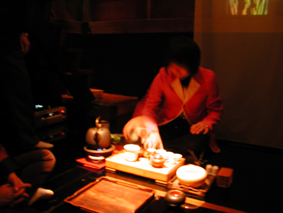 EVENT
L) music consert, SHINTO Fiddle, player: Kazue Tajima R) YinYang Tea ceremony
Floating and Hallucination ('98)
Millennium Garden ('99-'00)
Stream of The Wind, Feeling of The Wind ('02)
LiVE TATTOO SHOW ('02)
---
19:30 20/ 22 Feb.
Kakushin Tomoyoshi
hanaichikan vol.4
SATSUMA Lute concert & lecture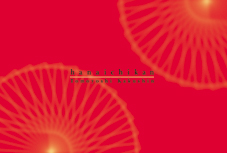 flyer design: Gallery éf
---
Fri. 21, Sat. 22 Mar.
TSUBAKI-ZA
HERE
theatrical performance, poetry reading
---
concert
20 Apr.
Kazue Tajima
Shinto Fiddle
---
19:30 8/10 May
Kakushin Tomoyoshi
hanaichikan vol.5 spring
SATSUMA Lute concert & lecture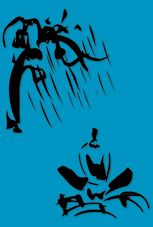 drawing: Roman Scheidl
---
Gallery éf The 6th Anniversary
Mon. 28 Apr. -- Sun. 25 May
Roman Scheidl

Austria
The Dream of a Particle
drawing & performance
special support/ Austrian Embassy/ Cultural Forum
in collaboration with/ TAMAMU (Tanz Marelei Musik)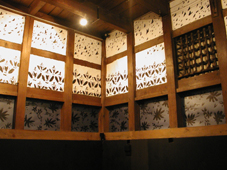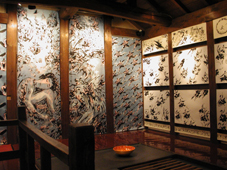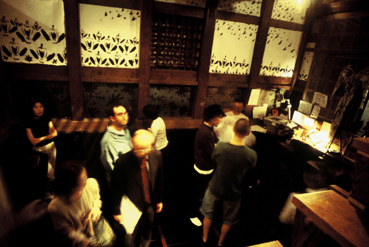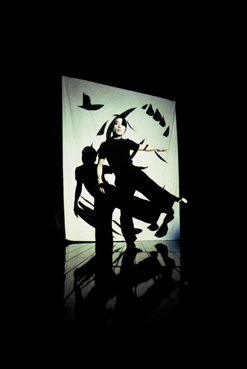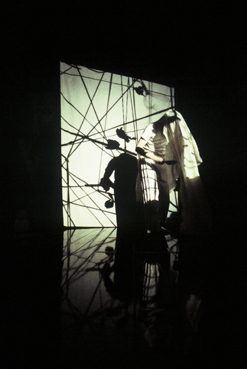 ---
concert
19:30 Monday 14 July
Ruth Wieder Magan/ Victoria Hanna

Israel
Mother Tongues
Produced by: Theater Company Angelus (Kanazawa,Japan)
Director: Naomichi Okai (from Angelus)
in collaboration with: Gallery éf
supported by: Embassy of Israel
Two voices reaching deeply into the female psyche to produce sounds from unknown cultures. Ancient women sing through them. Together they create a language that is both pure sound and speaking from the primal beginnings of human expression.
Victoria Hanna and Ruth Wieder Magan of Theater Company Jerusalem present excerpts from various of their original voice-theatre performances and speak about their ground breaking work with voice, body and language.
The performance moves freely from traditional Jewish prayers and folk songs to free improvisation, from devotional music the world over to original songs based on ancient texts. Sacred Songs combine with gibberish and sound spontaneously springing from the unconscious. The result is ritual, a sacred love song, expressing humanities longing to touch unity, to touch the divine.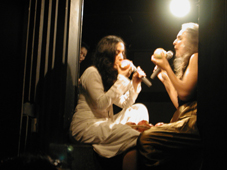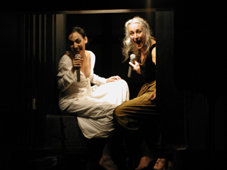 Ruth Wieder Magan

Founding member and CO-director of Theater Company Jerusalem. Responsible for the vocal work of the company. Has created a unique approach to voice, space and language with its roots in Jewish oral tradition. Researched Jewish traditional music and vocal patterns of sacred texts, created the vocal and singing parts and performs in many of productions. Best known for pioneering work integrating sacred Hebrew texts into contemporary music and theater.

Victoria Hanna

review

"Victoria Hanna is blessed with one of those voices that demands full attention. The room was rapt with her acrobatic voice. She ably channels all the power of Ancient Jewish Texts ... Her voice is something else. Her last visit left mouths agape."
--- Time Out New York
---
Music Concerts in Gallery
Forest under The Moon Light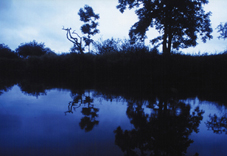 image photo: Hideki Shiozawa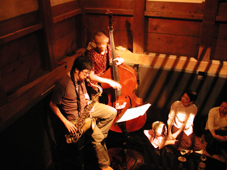 L) baroque music R) jazz
Kazue Tajima solo concert, SHINTO Fiddle
14:00/ 18:00 Sun. 31 Aug.
each 20 limited places
ticket: 2,500yen
---
Kakushin Tomoyoshi
SATSUMA-Lute concert & lecture (only in Japanese)
Hanaichikan vol.6: summer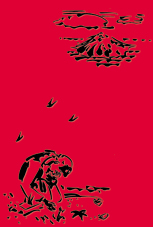 drawing: Roman Shceidl
19:30 Thu. 4 Sep.
15:30/ 19:30 Sat. 6 Sep.
each 20 limited places
ticket: 2,500yen

---
European Baroque Music
Flute: Mikira Asakura
Virginal: Fumi Kimura
14:00/ 18:00 Sun. 7 Sep.
each 20 limited places
ticket: 2,800yen
---
Jazz
Tenor Sax: Toshio Miki
Base: Shin Kamimura
19:30 Mon. 8 Sep.
40 limited places
ticket: 2,500yen
---
Traditional Instrument of North India
Esraj: Takshi Kougo
Tampura: Akiko Akane
Tabla: Junzo Tateiwa
14:00/ 18:00 Sun. 21 Sep.
each 20 limited places
ticket: 2,500yen
---
World Folk Instruments "TENKU"
Didjeridu, Calimba, Fiddle: Gyoten
Percussion: Hana
14:00/ 18:00 Tue. 23 Sep.
each 25 limited places
ticket: 2,800yen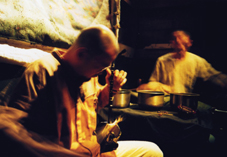 ---
1 Oct. -- 3 Nov.
Filiz Emma Soyak

Sweden
STRIVING TO BE CONSCIOUS
painting
Swedish Style 2003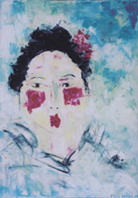 topaz/ Filiz Emma Soyak
STRIVING TO BE CONSCIOUS the art of living

text: Filiz Emma Soyak
"You cannot depend on your eyes when your imagination is out of focus" -Mark Twain
I strive to be conscious more and more each day, aware of myself, and aware of what is happening around me. To come out of our enclosed bubbles, which so often surround us and blind us from the importance of life, is something many of us forget to do. My opinion, derived from my observations, is that people are missing out on the good things in life, partly because they have forgotten what is important. Reflecting on Gallery EfÃs history, ¼The Art of LivingÓ is more than survival. It is cherishing history, memories and events; appreciating lifeÃs somewhat ¼littleÓ things is the art of living. My goal is to communicate that beauty and art of living is much deeper than what one sees and what one has. Everywhere I turn in Japan I see art and poetry. Japan has mastered the ability to balance so many contrasts; old & new; rustic & refined; serious & light-hearted; strict & gentle; sharp & curved; hard & soft; artificial & natural. It honors its history, while being brave and launching into the future in fashion, technology and architecture. Everyone worldwide is now looking to Japan for inspiration in terms of trends. The most special aspects of Japan are the crafts and ways which are sometimes overlooked. Tea ceremonies, sumo, how sushi and ginger are placed on a plate, kimono, sumi-e, kabuki, in the stories told, in empty spaces, etc I want the viewer to use their imagination and try to figure out what they see, not necessarily what I see, in my artwork, so it is for this reason that many of the paintings are very abstract. I want my work to be a vehicle for others to start appreciating things around them. By using a lot of color, shapes, lines and texture to create layers, I try to describe a place, a moment, a feeling. We need to strive to be conscious; learn how to see the world and our lives with the ¼Japanese eyeÓ; to notice the smallest of details in our mostly materialistic world and enjoy the art of living.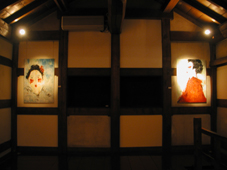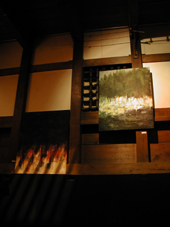 ---
concert
2 Nov.
UN-RYU
flute
---
13 Nov. - 14 Dec.
Leonardo Pellegatta

Italy
VISIONI - maboroshi
photograph
supported by Italian Institute of Culture, Tokyo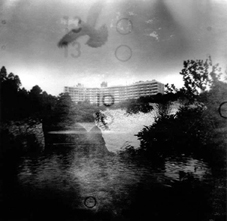 The exibition Visioni / Maboroshi is a poetic journey across this city. The Tokyo landscape is descibed through an interesting distance as if the people and things shown in the images lost their phisycal reality. Through the blueish light which absorbs some of the photographs, we have the sensation of a timeless space. Sometimes the multilayered elements of this images amplify our imagination. Reality becomes transparent and the spirits of a landscape are able to show themselves.
---
text by Shinji Ishii; author
Looking at a photograph of my grandmother which was taken thirty years ago, her voice, action and even the taste of boiled butterburs she used to cook are coming to my mind. I guess everyone has such a photograph. Those photographs are the entrance square to get into the sea of enormous memories. At the deepest place in the sea various and vast memories of all sorts of people are mixed and linked together, and might be creating a wonderous landscape which nobody has ever seen. These photographs of Leonardo Pellegatta appear like pieces from that landscape.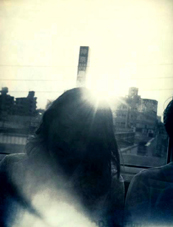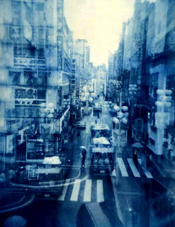 Leonardo Pellegatta
Born in Milan Italy in 1970; graduated in Fine Arts at the School of Visual Arts of New York in 1996. Since 1997, works as a professional photographer especially for theater and dance performance. Since 1998, becomes official photographer for the Festival of the Two Worlds. Images has been used by Shiseido and Malo basic for commercial use. Since 2003, moves to Japan, starts collaborating with some magazines.Publishes on the Mono magazine part of a series of portrait of the Italian Circus and the series "Tokyo East End Drive" about the urban landscape of Tokyo along the borderline between the Chiba prefecture and Tokyo prefecture. The same year 2003, contacted by Dentsu Japan, takes the photos for the Yomiuri Shimbun anniversary campaign. Has partecipated to several exibitions in Italy and abroad with personal and experimental works. Along career as a photographer, directed some experimental videos. In 1997, video "I am making a road" is selected at the Invideo festival of the Triennale of Milan. In 2001 with G. De Vecchi, directs the documentary film "Tabanka ka mori" (a musical heritage at the Cape Verde Islands), that is supported by the Unesco in the cultural program "La route de l'esclave". Since a few years, working on a documentary film and a photographic project about the Italian Circus.
---
19:30 11/13 Dec
Kakushin Tomoyoshi
hanaichikan vol.6 autumn
SATSUMA Lute concert & lecture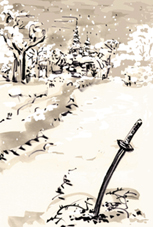 drawing: Roman Scheidl