22 Dec. 1999 - 16 Jan. 2000
Kin Taii + Gallery ef special presentation
Millennium Garden
visual installation
produced by Gallery éf
sponsored by : Millennium Garden Sponsors (personal donators)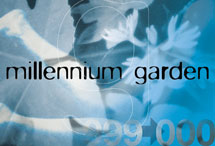 flyer design: ben graphique
From 1999 to 2000, Gallery ef and Kin Taii collaborated to create images for the new millennium. The garden of 2000 roses (ground floor) expressed the past millennium. The living flower had begun to wither, it expressed the life passing by in a natural circle.
On the moment we crossed the millenniun, we had a live visual performance with Kin Taii in a very calm and spiritual atmospher. His visual was projected onto the 2000 of rose garden and the wall of the space.
After the performance 1 Jan.2000, 1st floor was opened. The visual image was projected on a huge sphere expressed the birth of life and circulation. It expressed the coming millennium.
At cafe, computer graphics by Kin taii expressed androgyny - image of a future creature.
All works expressed the image of millennium. 30 of private supporter bought each 20 roses to achieve this project and share this special term with Gallery ef.
the visual of Kin Taii projected onto 2000 of rose garden.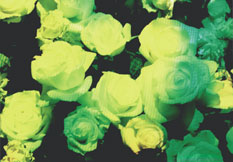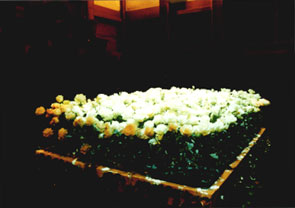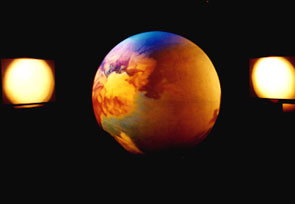 ---
26-30 Jan.
OKARAYA WORKS Yasuyuki kumagai (TOFU maker)
The exhibition of a TOFU meister
TOFU installation
produced by: Gallery éf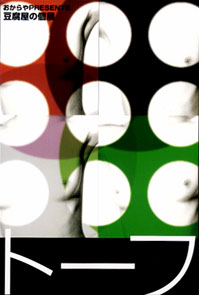 Tofu pudding is one of the traditional foods of Japan.It is made of soybeans.
Each neighborhood has its own tofu store.
The shape is usually a cube.
The color is usually white.But why ?
Nobody cares about it.
But he cares.
Who is he ?
He is Yasuyuki Kumagai.
He is the master of a 4-generation-old tofu store.
His aim is to create of a new idea.What is art ?
Who is an artist ?
Kumagai creates a new concept of traditional food.
We call him a creator.
Gallery ef agreed with his way of life and supports him in creating a new aspect of his expression. An exhibition of four different colors of tofu looked like a modern art installation.
We still call him a meister.

Kumagai is living in Ymaoka, Gifu prefecture, in the countryside in the middle Japan. He raises four different colored kinds of soybeans by himself and creates a new idea of tofu. He keeps holding such a unique event in Tokyo. But he serves tofu only at his store in Yamaoka.
flyer design: ben graphique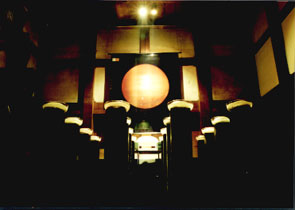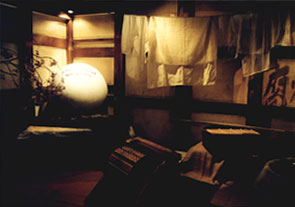 TOFU graphic by: ben graphique/ print: ART Ariake
collaborate exhibition at cafe
Takamitsu Yamawaki
TOFU murder case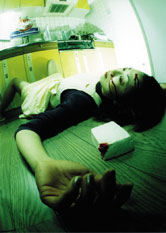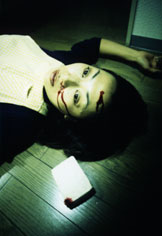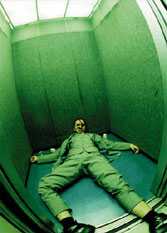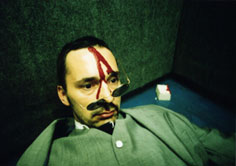 "Go and smash your head on the corner of Tofu brick !"
This is a traditional proverb in Japan.
It means "Don't do such a silly thing! You should be ashamed of yourself!"
It is impossible to do so. You can never die by tofu pudding. Never !
It may be possible... ?


---
9-10 Mar.
Special Secret Event
Daiki Wakachi
Melting Salon in Kaminarimon
performance
produced by: Tomo Suzuki
Frozen pig's blood contained hundreds of small metal balls (PACHINKO) placed on a white blanket. It melted ittle by little. The audience watched the process. The size was 15 cm square. It took four hours to melt.
Why do we fear our blood ? And since when was it conceptualized ? Wakachi keeps on creating blood cubes to destroy our fear. The tracks of blood drawn by the bloody metal balls created a new idea for its own existence.




15-26 Mar.
Zhang Shao Jun

China
The Story in Back Garden
typograph + photograph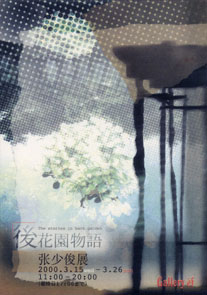 Old Chinese house, especially owned by upper class people, had their private back gardens. The owners loved the place and spent a lot of time. We can imagine many life events in that place; doomed love, pleasure and pain, life and death. Upper class people transformed those events into art work such as literature, music and sumi-paintings. The place was a source of art.Zhang Shao Jun has thought about this scenery. He saw the back garden inside an old Japanese warehouse in downtown Tokyo. He expressed these old images using modern technics such as computer graphics, photographs and sumi paintings.Zhang Shao Jun says, "If you visit this place, you will be a main character in the back garden"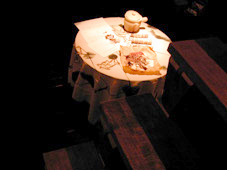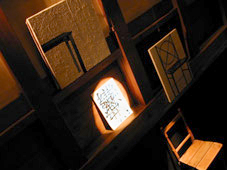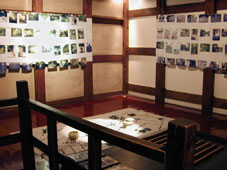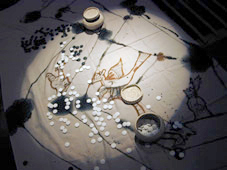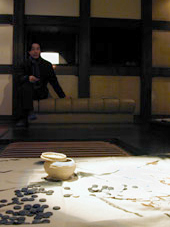 photo: Fang Zhen Ning
Gallery éf the 3rd anniversary Exhibition
14 Apr. - 21 May
Ko Soda
New Shop Open - RLRL
handwelted shoes
produced by Gallery ef


logo design: ben graphique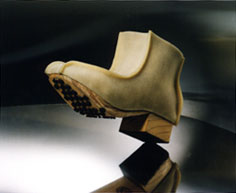 photo : Tatsuya Aoyagi
opening event
Video Fashion Show RLRL
Glass Vision presented by :
FUJITSU support & service Co.,Ltd.
Ko Soda has been making his original shoes, called as "KO SHOES". In this spring, he released a new brand called "RLRL" and opened temporary new shop in gallery ef, Asakusa, Tokyo.For this shop, he made five conceptual shoes, which symbolize "RLRL".
cafe
Collaboration art works : ben graphique
RLRL logo design + visual image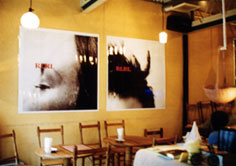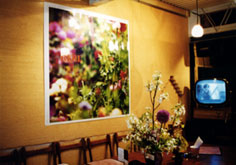 gallery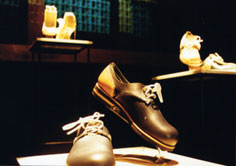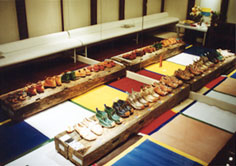 31 May - 18 Jun.
Kumi Ecchuya
Answer27, cosmos
installation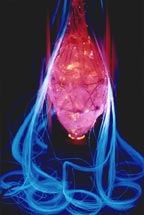 The scenery of beginning of the world. All things on the Earth are not for human beings, just for themselves.
Human beings are making efforts to realize a beautiful Utopia.
They may try to figure out the past and imagine the future.
However, can human beings exist in the Utopia they create ?
Scenery of nothing.
Kumi Ecchuya conceived it as beautiful scenery and created her own installations.
---
12-23 Jul.
Ayako Fujino
Fujino's Picture Book - chrysanthemums+creatures
drawing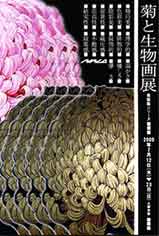 Chrysanthemums are constantly changing as a flower. The challenge to creat new kinds of flowers started 1500 years ago in China. Why have chrysanthemum fascinated people for such a long time ? Ayako Fujino is looking for the answer by drawing chrysanthemums. She expresses their exquisite beauty.
In this exhibition, she exhibited large scale drawings and created her own room especially for reading "Illustrated book" , together with drawings of creatures.
---
5-27 Aug.
International Contemporary Art Project
Kindergarten - "WORKSHOP"
Curator: Roger McDonald
Assistant Curator: Murata Megumi
This project consists of four related elements: two artist-run workshops with children from Sumida Kindergarten, a site specific exhibition by 12 artists in the kindergarten, an exhibition of the results of the workshops re-installed using projection technology at Gallery ef in Asakusa, and an installation in the gallery space of The Sumida Adult Learning Centre (designed by Hasegawa Itsuko) where each participating artist as well as the curators and staff are given one kindergarten table on which to make their own micro exhibition. The results of a survey on the artists careers as artists will also be available for reading here.
The Wedding Ceremony
PARCO Kinoshita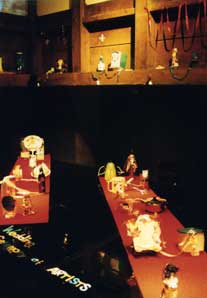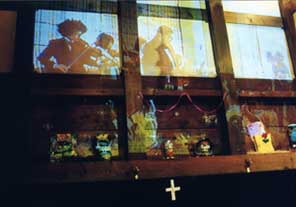 Fumiko Sugishima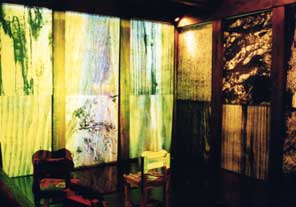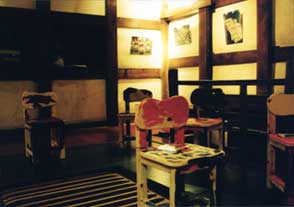 ---
1-6 Sep.
Mixed Media Art Communications
Art Festival in Tokyo - 2000
Sonia Robertson + Masashi kawamoto
installation
Sonia Robertson
Bruissement des feuilles
Sonia Robertson is an Ilnu artist from Mashteuiatsh, Canada.
She creates installations in "situ", which means that she uses the specificity of the site (indoor and outdoor) to introduce Amerindian holyman spirit and artefacts (ex.: using traditional colors such as yellow, red, white , black for the directions, beads and animal fur ).
She often organizes her installations with sound, photography and light in a subtle and delicate mixed media production.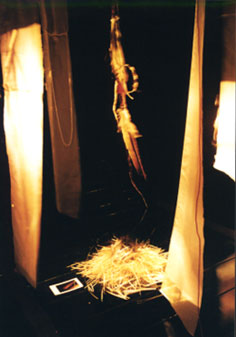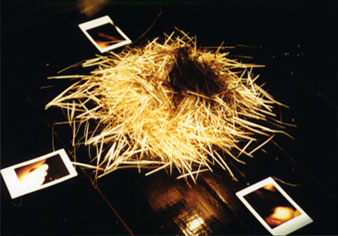 The piece that was hung in the center of the place was sacred object designed to contact the holy spirit. It was made from eagle, hawk and goose feather, horse hair and Sonia's hair. It gave a holy energy to this place and people and fueled Sonia's creativity.
Under the feathers, there were many porcupine needles, which represent her nation. The colors of the beads represent the four directions. East - yellow / West - black / South - red / North - white. They also represent the color of human skin. This symbolises the universal relationship of humans - beyond the skin color.
The beads were both stitched on to pieces of silk cloth which were hung from the ceiling, and placed on the photos taken by Sonia. These photos were projected onto the silk cloth. There was a breathtaking (but unintentional) spiritual symmetry with the exhibition upstairs.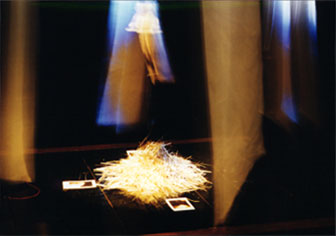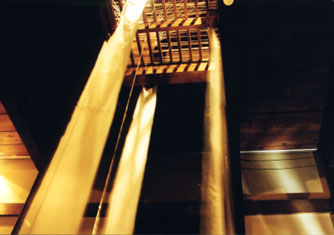 Masashi Kawamoto
Installation with paulownia and cotton thread expressing the "circulation-spiral" of the universe. Audience could walk and swim in the sea of thread.
I've been interested in the structure of the world.
My image of it is the huge "circulating spiral". However hard I may struggle to escape it, I have to go unconsciously through the present to be back to the same place again. Then, at last I realized that I only see the back of myself.
Masashi Kawamoto, May 2000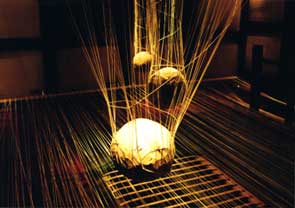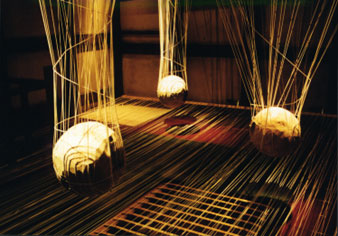 ---
9-24 Sep.
Takamitsu Yamawaki
Exposure Takamitsu Yamawaki vol.3 - Wandering
photograph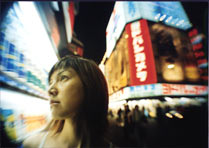 ---
29 Sep. -9 Oct.
ROGAM 6
Computer Graphics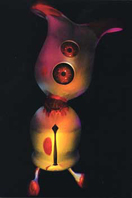 ---
14-22 Oct.
00 planning room
Flying Words
poetry reading event
A personal experience changes to words through the filter called "poet", and when these poems meet the right people, communication starts.
This exhibition expressed the process of creation of poems and communication through exhibits, reading & various outdoor events by The 17 Poets.
---
25 Sep. -16 Nov.
extra exhibition at shop space
The Vehicle
TOKYORAMA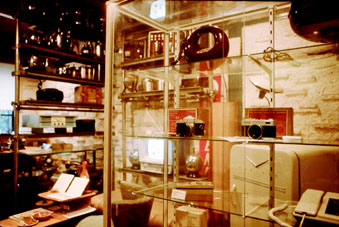 The Vehicle
main exhibition at : Contemporary Art Factory
(Higashi-Mukohjima, Sumida-ku)
"In The Family Way"
text by THE VEHICLE
This exhibition is made up of "outer - casing goods for home electric appliances, Shirakaba series" and expresses a life scene as a diorama. However, this situation is unrealistic and unrepresentative for Japanese people. This is not a western, oriental nor a Japanese living environment, but a pseudo living environment which is extracted from all sorts of phenomenon.
Since systems for visual entertainment first appeared on the scene, our image of our living room has been transformed into the stereotypes constantly repeated and reinforced by those systems.
"Outer - casing goods for home electric appliances, Shirakaba series" convert these cinematic and dramatic images into three dimensional substance. These devices also enable us to convert visual memory into tactile memory.
---
28 Oct. - 19 Nov.
Tamaho Moriwaki
The Medicine of Androgynous
doll
---
23 Nov. - 25 Dec.
Shujiro Murayama
ART vsJapanese Style
installation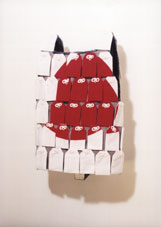 Protecting myself.
Protecting yourself.
Protecting kids.

What do you protect with OMAMORI ?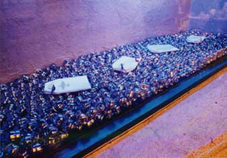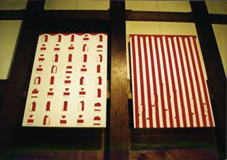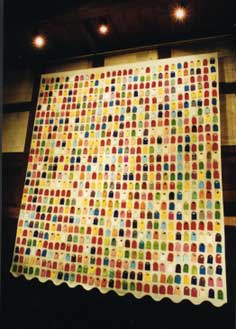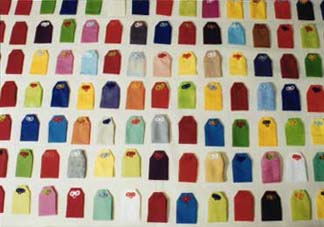 accident hazard mishap trouble concern complaint disease distemper illness malady sickness unsoundness common nuisance stress plague disaster public hazard affliction burden public nuisance environmental destruction environmental pollution adversity trial lurgy...
So much bad luck threatens our existence.
Humans have a self-protective instinct. Most of us rely on protective gods to keep away bad luck, by always keeping these gods close by.

In foreign countries, people try to protect themselves by having representational things such as religious statues. In Japan, there is "OMAMORI", lucky charms. You can buy one at Buddhist temples or Shinto shrines. It looks like a small cloth bag. This bag contains a small piece of paper that has been blessed by a priest. There is a long tradition in Japan of wrapping precious things in cloth, from wedding gifts to human ashes. People wish for the safety of their family, academic achievement, safe driving, safe delivery and so on. People believe this small cloth bag will bring them the answer to their request, safety.
Japanese carry these lucky charms at all times. For us, this is very meaningful to have faith in the charm.However, in modern Japanese society, the fundamental meaning of the lucky charm is getting lost. Most of us visit temples or shrines at New Year time and buy a new lucky charm. At this time of year, we are acutely aware of the charm's power of protection. For most people, the main purpose of this New Year visit is to purchase a new charm.

But in modern life, there is not much time to be aware of the significance of lucky charms. It is just a fashionable thing to do. This phenomenon symbolizes Japanese people's loss of our sense of value, and so in a way, our sense of Japan, its cultural and historical identity is being lost.

However on TV, we sometimes see athletes with a lucky charm sewn on their uniform in the Olympic games, or the audience of high school championship baseball games praying for victory with their lucky charms. It is quite natural for us. Even if lucky charms just become a mere fashion accessory and people seem to depend on them less and less, we Japanese still need the lucky charms. They still have great potential for protecting us from bad luck. I believe so.

How about you ?
What do you protect with OMAMORI ?
text : Shujiro Murayama
translation : Gallery éf