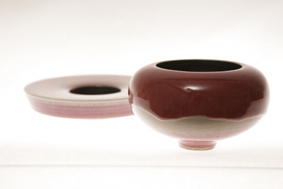 photo: Hideki Shiozawa
Thomas Bohle (ceramist)

Born in Dornbirn, Austria in 1958. Started studying pottery since 1987, experiences in different studios. Opened his own studio at Dornbirn in 1991. First trip to Japan in 2002, visited different potters. First solo exhibition in Japan (Tokyo, Gallery ef, April-May) and in China (Shanghai, Peninsula Art Center, July) in 2004.
His highly-refined skill and outstanding expression of aesthetic, specially in its unique form and rich variation of glazes are highly regarded in those homelands of ceramic. Having taken part in Shanghai Art Fair as an invited participant, three years in a row.
Won Bayern Award in 2006. Started experimental collaboration with Chinese painter Leon Chen since 2007.
recent exhibitions and art fairs
2005
Galerie Marianne Heller, Heidelberg | Galerie Metztger, Johannesberg | Cheoungju Int. Craft Biennale, Korea | Shanghai art fair, China
2006
Gallery ef, Tokyo | Collect – Int.art fair Victoria & Albertmuseum, London | Meister der Moderne – Handwerksmesse Munich | Hous of contemporary Ceramic, Giroussens, France | Galerie Bartels, Mönchengladbach | Seoul art fair, Korea
2007
Gallery Puls, Contemporaty Ceramics, Brussel | KIAF, Seoul Int. art fair, Korea
Thomas Bohle
solo exhibition in Tokyo (Gallery éf) "Ya Shi"
solo exhibition in China (Peninsula Art Center) "DanYa"
joint exhibition in Tokyo (Gallery éf) "PINK"