24 Dec. 2003 - 18 Jan. 2004
Zhang Shao Jun (Shanghai/China)


Balanceology - guan xi xue
black ink drawing
opening party
18:00 Tue. 23 Dec.
yin-yang tea ceremony
0:00 Thu. 1 Jan.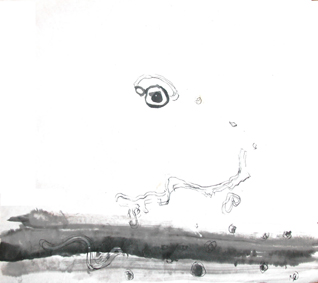 Balanceology - The world of Black Eyes
How big is the world of a single grain of sand?
"Its diameter is 0.1mm; its volume is 0.000532 cubic meters; it is found in an ocean"
A westerner might characterise it so.
"The single grain of sand is one world"
An oriental might describe it so.
The single grain of sand has a previous life as well as a future life. In its previous life, it might have been part of the rock of a magnificent mountain. In the next life, it might be a single crystal in a fog that you happen to observe one day.
The single grain of sand is Yin as well as Yang. Yin is nutrition from water; Yang is the warmth of the sun.
The single grain of sand is light as well as shadow. Light is the growth process; shadow is the footprints of life.
The single grain of sand is something large as well as something small. The largeness is the history of the single grain of sand; the smallness is the space it occupies.
Inside the single grain of sand, there is the thirst of a shell for the ocean, the desire of trees for the sunlight, the quest of humans for love. Outside the single grain of sand, there is air, water, earth and the world in which we exist.
When we arrive in the red earth of the East, we already have "eyes" different from western ones.
Orientals have 'black eyes', westerners have 'indigo eyes'.
There are various distances in the world of indigo eyes. People seem to try to investigate spheres by using protons and neutrons, to decode the world by using physics, to surgically remove international problems.
The world of black eyes is full of relationships. By being closely linked to others, people try to interpret the relationship between human and human, human and nature, human and the world, trying to communicate with certain natural theories. For human's existence and development, it is necessary to acquire other lives of animals and plants in nature. The coexistence of nature and various things continues eternally as a relationship of balance.
In the work of this exhibition, Zhang Shao Jun attempts to decode various relationships - such as the blend of Yin and Yang, the interplay of light and shadow, the transformation of large and small, the experience of inside and outside. The approach of decoding the relationship in the world of black eyes, presents us with a great possibility of balance in the process of deepening ourselves.
text: The friends of Zhang Shao Jun
translation: Gallery ef & Tim Rawsthorne
---
24 Jan
Kuniyoshi Yashiro
Jazz Drum concert
---
11 Feb. - 7Mar.
Shinji Komiya
Icthyo-timepiece; Ship of Memory
installation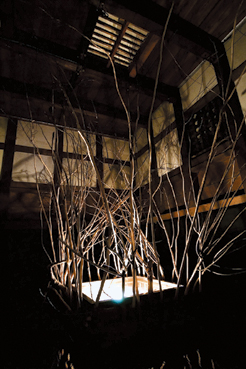 photo: Yukio Morinaga
Water tanks send out perpetual ripples. These ripples cast shadows and light of water on the ceiling and walls, spreading out into the whole space. Some draw arches, others create complicated patterns by intricately intersecting each other. Waves alternately sway and decay, and the water gradually permeates the space.
I love working in a place where it already has its own atmosphere, including historical background. For example, I have created installations in the ruin of a castle in the Alps, in Yugoslavian dynasty's ballrooms(now in Serbia), in a historic architecture called "Water Tower" in Vienna, in medieval European churches, or in Japanese temples. When a new space presents itself without losing distinctive emotional qualities of the location, I feel like I can step outside of a sense of time.
In this installation, fish swim across the space in the old stone storehouse in Asakusa, and the ship of memory floats in one's awareness.
---------------- Shinji Komiya
translation: Kenji Yuda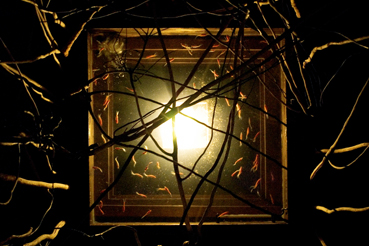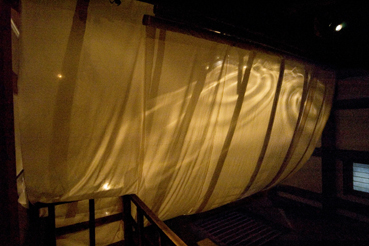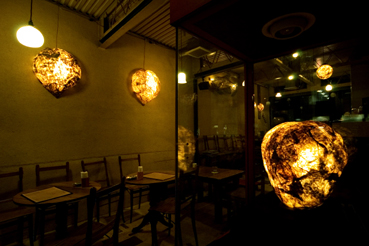 Shinji Komiya biography
Born in Hakodate, Hokkaido, Japan in 1961, finished the postgraduate program at Tama Art University, Tokyo in1987.
Exhibitions (selection)
2003
SHINJI KOMIYA exhibition, PAZworld Gallery, Gifu
Suisou no houga, Seigetstdo Gallery, Tokyo
2002
AQUA-RAUM PROJECT, HMH Gallery, Linz, Austria
L U X, EDITIONSWERKSTATT, Bregenz, Austria
pulsing geometry, Gallery Muu, Kagurazaka

2001
HAMON, exhibition, SKC, Belgrade, Yugoslavia
WALDMOND, exhibition, HIRT HAUS ATELIER, Austria

2000
mio, exhibition, expo gallery, Vienna

1999
SHIZUKU, exhibition in the Wasserturm, Vienna

1998
HAMILTONIAN, exhibition in GALLERY Inflamma, Tokyo
QUO VADIS, exhibition in P3, Tochoji temple, Tokyo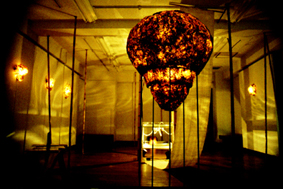 Projects (selection)
2003
XYZ - KUNST AUS HOLZ, Internationales GriffnerHaus Kunstlersymposium, Griffen, Austria
SENZA FRONTIERE Kawasaki 2003, Art Garden Kawasaki, Kanagawa
2002
ALLES DOBRATSCH – STADT BLICK BERG, RATHAUS, Villach, Austria"
2001
KuenstIerbegegnung im Benedikinerstift, St. Lambrecht, Austria
STYRIARTE 2001 Gottesstaat, St. Lambrecht, Austria
Fest der Fluesse, lnstallation in the Wiental tunnel, Vienna, Austria
2000
NEIN, Participation in the Hotel Pupik, St. Lorenzen bei Scheifling
TRANSART 2000, Lamparna, Labin, Croatia
1999
Mottomo Otomo, Stage design for the Festival Unlimited XIII, Wels, Austria
International visual arts symposium Violin 'IMM, in the Rosenberg Museum in Violin, Slovakia
Anist in residence at Hotel Pupik, St. Lorenzen bei Scheifling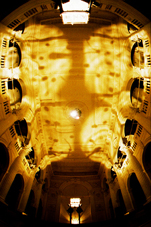 ---
19:30 11/13 Mar.
Kakushin Tomoyoshi
hanaichikan vol.8
SATSUMA Lute concert & lecture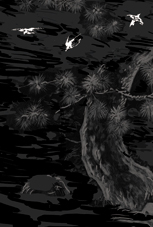 painting: Roman Scheidl
---
19 Mar. - 12 Apr.
Irena Khaikin-Peer


IMMATERIAL
textile
supported by: Embassy of Israel
opening reception
19:00 Thr. 18 Mar.
live music by Nobara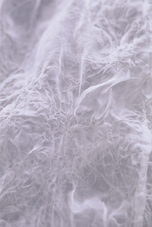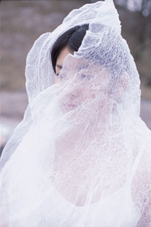 photo: Kanki Matsumura
"immaterial" is a transformation of mathematically designed images into tactile delicate textiles.
Irena Khaikin biography
Irena Khaikin was born in Siberia, Russia, and moved to Israel in 1993. She studied textile design in Ivanovo, Russia and Shenkar College of Textile Technology and Fashion in Israel (B.A. with honors).
In 1999 she was granted the Monbusho scolarship, an invitation for research and study in Japan, and completed an M.A. degree in Tama Art University. Currently, Irena is a PhD researcher at Tama Art University, and is working as a freelance textile designer for both interior and fashion markets.
Her designs and fabrics are featured in collections by Creation Baumann, WiseWise and Ozone Rocks. In her current project she is researching the relationships between computer-made vs. hand-made and artificial vs. organic, and is creating patterns for digital and hand printing.
The specially designed software is a result of collaboration with computer artist Shinya Matsuyama.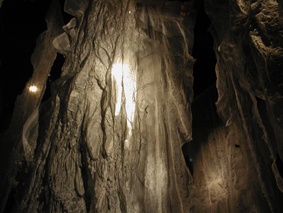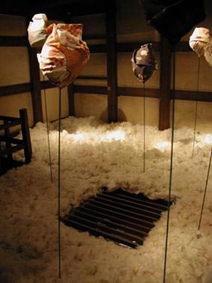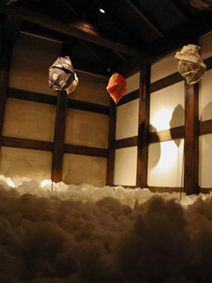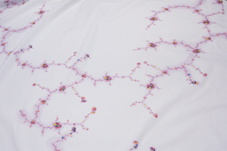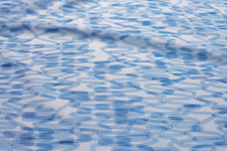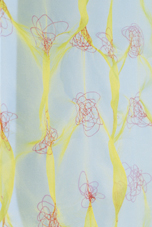 ---
17 Apr.
TRASH DANDY
happenings & performance at bar
Cushla (NZ) Guidance
Ben Frost (AUS) The 1981 President Reagan Assassination Attempt
Steffi Jüngling (GER) This is why
Ben Schwartz beat poetry
DJ THE JET PLANE surreal tracks
---
19:30 24/25 Apr.
Kakushin Tomoyoshi
hanaichikan vol.9
SATSUMA Lute concert & lecture about Japanese traditional performing art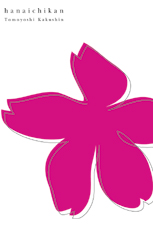 ---
Gallery éf 7th Anniversary Exhibition
29 Apr. - 21 Jun.
Thomas Bohle


ya shi
ceramic (stoneware)
supported by Austrian Embassy/ Cultural Forum, Vorarlberg State Government
in collaboration with Daniela Egger, JIBO
cooperation: A&G ALPS, Plaza Gallery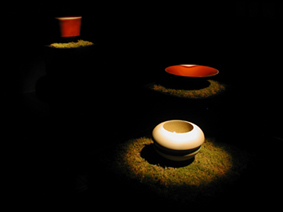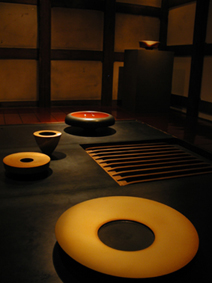 A bowl made by Thomas Bohle
text: Wolfgang Hermann (author/ Austria)
At the other end of the room there is a bowl. The face of this bowl seems to consist of pure floating, made from a body of air, which uses the materialistic compound only as a manner to show himself. The precise design does not only conceal any trace of the making, but allows the bowl itself to become invisible. You can never be sure how many steps there are to reach the bowl. Its floating precence fills the whole room. It seems as if every step is done in its expanded body. As if we ourselves were inscribed in its infinite close distance. In its inner ground the bowl opens ways like in a dreamt Hinterland. Breath. Earth. Breath.
translation: Steffi Juengling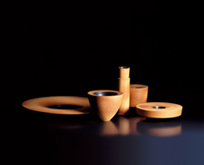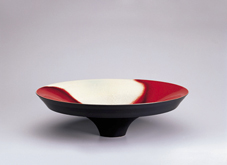 photo: Frigesch Lampelmayer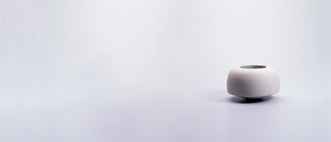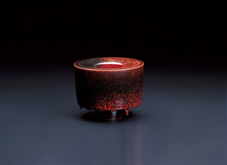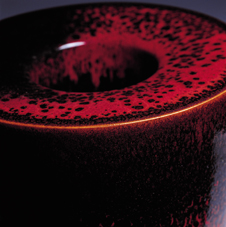 ---
19:30 24/26 Jun.
Kakushin Tomoyoshi
hanaichikan vol.10
SATSUMA Lute concert & lecture about Japanese traditional performing art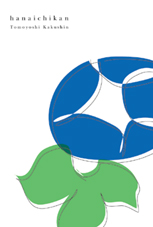 ---
16 Jul. - 16 Aug.
Collapsing Histories
curation: Aaron Kerner


mixed media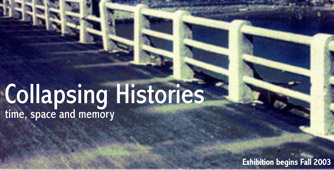 War, genocide and terrorism. The 20th Century is lined with numerous catastrophes. And as we embark on this new century there seems to be no end to the catastrophic experience. Through highly advanced media we can see catastrophic images in real time (e.g., the collapsing of the World Trade Center, the American bombing and invasion of Iraq). The impact of individual images circulating in the mass media, or objects charged with personal memory might have strong resonance, but with the passage of time the emotional charge might dissipate. The events which are unfolding today are in a sense a repetition of catastrophic histories.

"Collapsing Histories ~ time, space and memory ~"is an exhibition that focuses on vanishing histories. None of the artists, with the exception of Binh Danh, have directly experienced the catastrophic events they depict. For some of the artists it is their parent's who lived through a catastrophic episode, such as war or the Holocaust. The artists negotiate catastrophic history through their artwork. The Second World War, the Pacific War, the Holocaust, the use of atomic bombs, nuclear development, the Vietnam War, the Chechen war and a series of terrorist attacks, 9-11 are themes touched upon, but the exhibition also addresses how these events are contextualized in history, in time, space and memory. The images of catastrophic events, which slip from personal and cultural memory, are preserved in the artwork.

Fourteen artists from the U.S., Japan and the U.K. are participating in this exhibition, responding to the call of the curator, Aaron Kerner (Assistant Professor at San Francisco State University). The artists try to uncover and discover the vanishing images of histories with each own expression: painting, photography, printmaking, textiles, mixed media and video installations. Most of the foreign artists are showing their works for the first time in Japan.


The exhibition venues are the Daigo Fukuryu Maru Exhibition Hall and Gallery éf. And what makes this exhibition of Collapsing Histories special (it was previously exhibited at the University of California Santa Cruz) is that the exhibiting venues themselves are as important as the exhibited artwork. The Daigo Fukuryu Maru Exhibition Hall preserves a wooden fishing vessel that was exposed to deadly radioactive fallout after an American hydrogen bomb test in the Bikini Atoll fifty years ago. Gallery éf is wooden warehouse that survived earthquakes and the American fire bombing nearly sixty years ago. As witnesses to history, these two venues are appropriate for the concept of Collapsing Histories ~ time, space and memory.
---
collaborate exhibition venue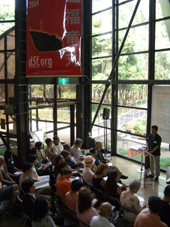 Daigo Fukuryu Maru Exhibition Hall
July 16th to August 15th

Opening Hour 9:30~16:00
Closing Monday

Address 3-2, Yumenoshima, Koto-ku, Tokyo
Tel. 03-3521-8494

Traffic Access
10 minute walk from Shinkiba-station of Yurakucho-line, Rinkai-line

Website http://d5f.org
Artist Talk event 15:00~, July 17th

Traffic Access Between Two venues
Daigo Fukuryu Maru Exhibition Hall -- Shinkiba station -- (Yurakucho line) -- Ningyocho station -- (Oedo line) -- Kuramae station -- Gallery éf
---
About Artists
Sally Clark/ photograph
Sally Clark's photographs look like European postcards, however, they are all tinged with horror. All these images are former concentration camps.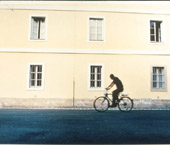 Ian Everard/ painting and found photograph

These are paintings, not photographs. Ian Everard very carefully has recreated found photographs using watercolor. The images that Everad chooses to paint, often find current resonance. For example, in these images we see a procession of POWs and soldiers wearing chemical suits. All of this seems to bring to mind current world concerns and conflicts; we have to wonder have we learned anything?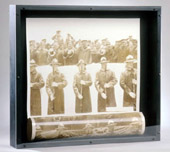 James Fee/ photograph

James Fee's father was a photographer; it was his father who taught James photography. During the Pacific War, he was sent to Peleliu in one of the bloodiest confrontations between American and Japanese troops. In 1972, haunted by his experiences, Russel Fee (Jame's father) committed suicide.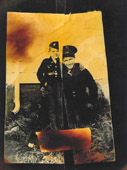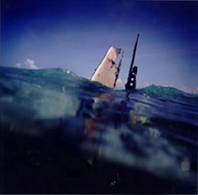 Binh Danh/ mixed media photograph

Binh Danh was born in Vietnam and during the close of the Vietnam War, like many others, his family fled eventually landing in the United States. Although too young to remember this experience, in many ways the experience is inside him – in his flesh and bone. Binh Danh has used iconic images from the war and grown them into leaves. Like Binh Danh's flesh and blood experiences, the leaves bear the traces of that conflict.


Shelby Graham / mixed media photograph

Shelby Graham actually lived in Japan for two years. During her stay she found this photograph of a schoolgirl in the trash. Intrigued by the photograph and why this image – which means something to someone – would be cast way, she has re-framed it. Suspending the image beneath a web of rice-paper and the ominous form of a missile, the juxtaposition of these forms begins to construct a set of new meanings, and new memories.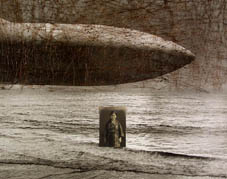 Robynn Smith / painting

Smith has superimposed an image of downtown Grozny after being bombarded by the Russians, with the ruins of the WTC site. Here we have two urban centers wrecked by violence. The print is based on this photograph of Grozny which appeared in the New York Times.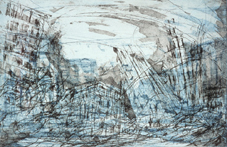 Keith Muscutt / installation
"Real Artifact"

Keith Muscutt is the son of George Muscutt, the material seen here are original documents which record the surrender of British led troops to the Japanese. Also included here is George Muscutt's wallet which he kept during his imprisonment in a Japanese POW camp.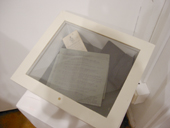 Robin Kandel / video installation

Robin Kandel's father survived the Holocaust by living in the forest for 18 months. Her video installations reflect some of his experiences: burying dead relatives in the forest, creating shelters during the winter months by digging holes and covering them with branches and leaves.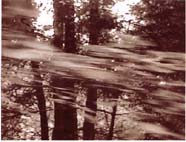 Nakahashi Katsushige / photographs and video

History fascinates Nakahashi Katsushige, but not just the subject of history, rather the history that is locked up in specific places and time. Nakahashi presents an incredibly important piece, documenting 50 years to the day, March 1, 2004 the detonation of the Bravo Test Blast in the Bikini Atoll. In a piece – a la David Hockney – Nakahashi has reassembled the place which encapsulates the remains of American atomic test blasts which has resulted in the death and suffering of untold numbers of people.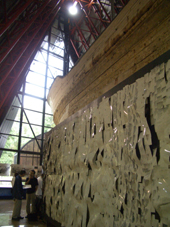 Aaron Kerner / video installation

The United States has gone to great length to re-assure itself about the use of atomic weaponry. Even the first Godzilla, which was released November 3, 1954, several months following the radiation of the Daigo Fukuryu Maru, was radically changed for American audiences, virtually erasing any content pertaining to American use of atomic weaponry. The video includes the opening sequence of the American and Japanese version of the first Godzilla. In addition there are clips from American civil defense films, which – among other things – explains the 'benefits' of atomic energy, and how to survive an atomic attack and fallout.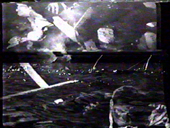 Rebecca Ramos / mixed media photograph
Rebecca Ramos has layered multiple images to create a layered print. The images that she chooses to work with reference the use and testing of American atomic weaponry. Her work is something like a map, outlining how atomic weaponry affects the landscape and the people who live near these sites.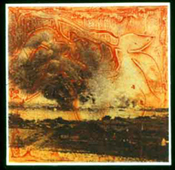 Elyse Koren-Camarra / textile collage

This is a clear vinyl piece, in the shape of a kimono, which will be draped over another piece by Koren-Camarra, entitled Kimono (Unfinished). Inscribed on the clear plastic is material that was dropped from American airplanes over Hiroshima. The text encourages the Japanese people to resist their government, and to "abandon your cities." The leaflets warned the Japanese of their 'prompt and utter destruction,' as stated in the Potsdam proclamation.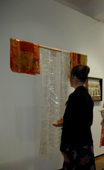 Hanna Hannah / painting on paper

Hanna Hannah draws from media sources (e.g., Associated Press photographs). Because we are inundated with media images, we seem completely immune to the horror. Paradoxically Hannah attempts to return some of the horror of the images by placing them in what we might consider a decorative background.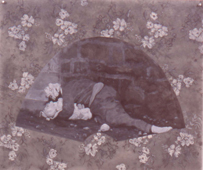 Kenji Yanobe / video installation – mixed media
"Cinema in the Woods"

Along with Nakahashi, Yanobe is one of Japan's most important contemporary artists. In the past Yanobe has presented sculptural pieces that are designed as post-atomic survival suits. His survival suits while 'deadly serious' are also humorous. The video installation continues this approach by turning the issue of atomic weapons and energy into 'child's play.' The video installation contrasts video clips from Atomic Café and from home videos. Video monitors are placed inside a something like a dollhouse.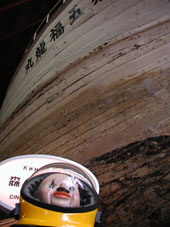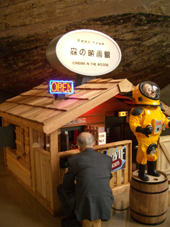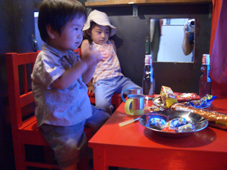 Shiozawa Hideki / Photograph

This photograph was taken in the tribal territory, Dharra of Pakistan. This area is ruled by tribal law, not by the national law. So it is allowed to manufacture weapons. Together with his father and elder brother, this boy was working as a weapon craftsman without question.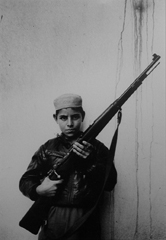 ---
15 - 30 Sep.
Steffi Jüngling


room4love.com
interractive art/ installation
in collaboration with: HOTEL SUNFLOWER, Asakusa, Tokyo
sponsored by SEVEN BED, SHOWA BOEKI Co., Ltd.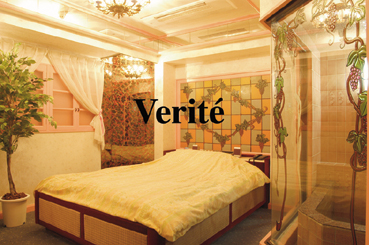 German artist Steffi Jungling creates a fictional LOVE HOTEL which has three real doors inviting you to love.
The 1st door is in a real love hotel "SUNFLOWER" in Asakusa which has 39 various rooms. Jungling installs 39 love stories, which are inspired by the book "Fragments d'un discours amoureux" ("Fragments of a language of love"); by the French philosopher and writer, Roland Barthes, a different one in each room, where they act like lucky charms or title for each room.
The 2nd door is on web "www.room4love.com", which shows all the stories and rooms which correspond to the real love hotel. You can send your own love stories to the site, you are welcome to contribute to room4love.
The 3rd door appears in Gallery ef, also in Asakusa, as an installation of "room for love", which provides you an idea of being in a love hotel relaxed.
By this an imaginary space for love will be created, where reality and fiction merge and the individual visit becomes part of a "love-fictional".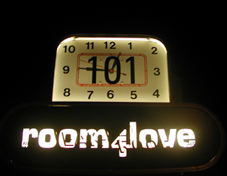 NOTICE: SUNFLOWER is in business. You cannot tour around the real love hotel. Please check in for STAY or REST following its system.
A "Love Hotel" is a space for lovers who want to satisfy their desire and to be alone. Japanese people are quite familiar with the idea of a love hotel, but for foreign people it seems a very exotic concept.
A space that is prepared for the quite limited aim of making love. A system that makes it possible to check in and out without being seen by anyone. An interior and tools that magnify the pleasure. No other countries except Japan have these love hotels that specialize in this one purpose and in stimulating one's imagination.

Steffi Jungling, a German female artist, creating installation works with the motif of literature, is one who is inspired by the Love Hotel. She will start an art project, "room4love", on the stage of a real love hotel, website and art gallery.
Sunflower, a love hotel in Asakusa, Tokyo will join this project. This hotel has a 20 year history and has a unique character such as a variety of room interiors, advertising by the Internet and so on. It invites a diverse clientele, from local people to foreign travelers.

This hotel has thirty-nine rooms and Steffi will display a message in each room. The content of the message is a short love story written in the motif of "Fragments d'un discours amoureux" ("Fragments of a language of love") by the French philosopher and writer, Roland Barthes. When lovers enter a room, they will meet the fragment of a love story, created by Steffi's imagination.

In addition to this real hotel, a website "room4love.com" will make thirty-nine rooms. Each room will display the same message as the real room and a panoramic photograph of its unoccupied interior. The visitors in the real room can get the message, access the website and send their own message such as their own stories in the room or their own love experience. Of course, visitors to the website can send their message, even though he/she does not go to the real love hotel.
Steffi will write new stories based on the messages by visitors. So, in the room of the website, countless numbers of love stories will be created.

One more gate to this love hotel will appear at Gallery ef, an art space in Asakusa. This building was built in the Edo period, 136 years ago. Steffi will create an installation, "room4love". During regular opening hours, 11:00 to 19:00, the audience will be able to see this room without charge, and after 19:00, visitors can stay just by themselves for a charge of 1,000 yen per hour per person. It is possible to order drinks from the bar.

It takes ten minutes walking from the imaginary room to the real hotel room of SunFlower.
Love Hotel, Website and Gallery. The love stories in the motif of love hotel, always exciting the imagination, will spread with interactive ways.

room4love http://www.room4love.com
HOTEL SUNFLOWER Asakusa http://www.i-x.co.jp/sunflower/
3-15-1 Nishi-Asakusa, Taito-ku, Tokyo
Steffi Jüngling http://www.jungling.de/
---
3 Sep. - 21 Nov.
Music Month
Forest under The Moonlight

Gallery éf presents annual live event of autumn "Forest Under The Moonlight". A wide variety of musicians participate this event, such as Jazz, Japanese Imperial music, ethnic and Baroque music.
All the concerts will be held in gallery space, which was built in 1868 as a clay warehouse and the number of audience is limited as 25 persons.
In the relaxed autumn air, you can feel the harmony of clay, wood, sound and even breathing of musicians.Live Month "Forest Under The Moonlight vol.3"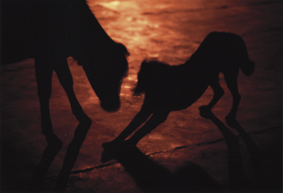 image photo: Hideki Shiozawa
Ten-Ku : Ethnic Instruments Unit
Oct. 3 (Sun.) 14:00~ / 18:00~
Nov. 3 (Wed.Holiday) 18:30~
Ticket: 2,800yen
:-) This unit plays ethnic music instruments such as Kalinba: African finger piano, Niko: Chinese violin, Jambe: African Drum etc.
Jazz: Kuniyoshi Yashiro (Drums) / Testuro Ueno (Bass) / Atsuo Takahashi (Sax)
Oct. 7 (Thu.) 19:00~
Ticket: 3,000yen

Un-ryu: Oriental Flute
Oct. 10 (Sun.) 18:00~
Oct. 11 (Mon.Holiday) 13:30~
Ticket: 2,800yen
:-) This musician plays several kinds of flutes such as Native American Flute, Bamboo Flute, Clay Flute etc

Kakushin Tomoyoshi: Satsuma Lute (Biwa)
Oct. 16 (Sat.) 15:00~ / 19:30~
Ticket: 2,500yen
:-) Biwa is Japanese lute, specially Satsuma one was developed by Samurai for their mental training.
;-) This concert has two part.
Part1: lecture about Japanese traditional performing arts (only in Japanese) Part2: Biwa playing
If you would like to listen only playing, you can enter with 1,200yen , one hour after the start.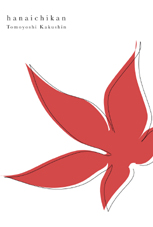 Kazue Tajima: Shinto Flute
Oct. 23 (Sat.) 15:00~ / 19:00~
Ticket: 2,500yen (Chinese tea will be served)
:-) This performer plays ancient melody, which has over 1,000year's history by "SHO", imperial music instrument.

Jazz : Toshio Miki (Tenor Sax) / Shin Kamimura (Bass)
Oct. 28 (Thu.) 19:30~
Ticket: 2,500yen

Takashi Kougo and KOH-TAO: Northern Indian instrument "Esraj" and ethnic instruments unit
Oct. 31 (Sun.) 14:00~ / 18:00~
Ticket: 2,800yen
:-) "Esraj" is an instrument of Bengal region, eastern India. In addition to Esraj, this unit plays kalimba, flute, percussion, guitar and so on.

Gyoten, Toshi, and Hana: Ethnic Music Concert for Children
Nov. 3 (Wed. holiday ) 14:00~
Ticket: 1,000yen (kids 0 to 12 years old) / 2,000yen (adults)
:-) The main audience of this concert is children. Children can dance, sing, scream and cry, if they like. This is a very good opportunity to give a music experience to children. The main musicians are from Ten-Ku.

Duo Lutin: Baroque Music Unit
Nov. 7 (Sun.) 17:00~
Ticket: 2,800yen
:-) This unit plays very old classical music instruments such as Virginal, old style of cembalo and flutes in about 300 years ago. The contents of number are mainly from Baroque Music.
---
12 - 21 Nov.
Christof Cargnelli (Austria)


Second Order Circuit
Sound Installation
supported by Austrian Embassy/ Cultural Forum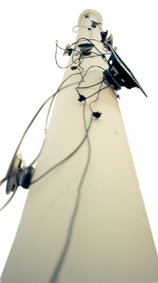 Austrian artist Christof Cargnelli creates his sound/light installation in a traditional two-storied warehouse built in 1868 in Tokyo - Gallery éf.
The individual reception of the installation depends mostly on the position of the visitor within the space. The ground floor is structured through neon lights, flickering only for split seconds, constantly creating visual variations of the same space. The sound develops in all directions and creates new spatial horizons. Starting from the upper floor the space fills up and the sounds begin to spin upwards through the system of interlocked loudspeakers; reaching the ceiling and gliding down along the walls like waterfalls.
The space begins to breathe, similar to an organism which reacts to an external impulse. The quantity of the stimulus creates the breath - allowing the room to fluctuate between micro - and macro-organic states.

---
4 - 18 Dec.
Railway goods collection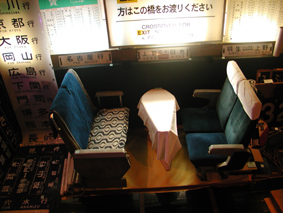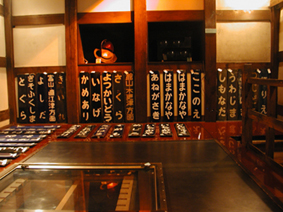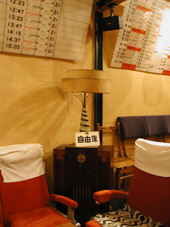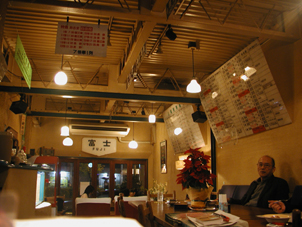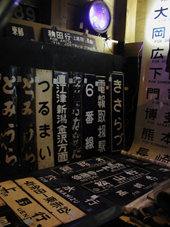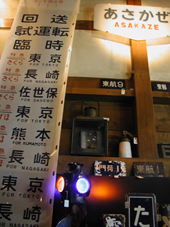 precious collection of Mr.Setouchi,
part of his 70years' collection