---
---
SATSUMA Lute concert & lecture
19:30, 23/ 25 Feb.
Kakushin Tomoyoshi
"hanaichikan" vol.16
featuring: Nasuno Yoichi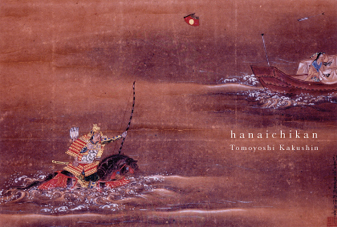 This story originated from "The Tale of the Heike", written in the Kamakura Period (13th century).
Minamoto Yoshitsune commanded Nasuno Yoichi to shoot an arrow into a fan, which was set up in an enemy's boat; but the weather was windy and the boat a long distance away.
However Yoichi galloped his horse into the sea and prayed. Luckily the wind calmed down and his arrow hit the target.
In this music-piece, the Biwa expresses various sound effects, like the galloping horse, the shooting of the bow, the flying arrow and the floating fan in the waves.
---
---
3.10
19:00 Fri. 10 Mar.
IKKO SUZUKI: dance performance
Kirara Kawachi: sound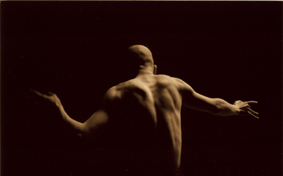 photo: Daito Noken
admission 2,500Yen (with 1drink)
In the early morning of March 10th, 1945, eastern Tokyo was heavily bombed by the US air force. More than 100,000 people were killed that morning, most of victims were elders, women, and children.

Not many buildings survived the bombs- one of the very few exceptions is this old storage. Now it's called gallery ef- it stands here in Asakusa since then.

After that, Japan is fortunate to have nothing to fall on us from the sky- except rains- But in the world, there are civilians suffering with the fall of bombs everyday. Tokyo Bombing tells us the story- story we should share with the world. A dancer Suzuki Ikko will collaborate with the voices of survivors in the gallery ef on March 10th. It would be a night to share the moment that happened 61 years ago.

A week after the bomb attack during World War 2 on 19 March 1945. This photo was taken from the top of Matsuya Department Store. On the left is Sumida River and the small building in the middle is the warehouse - Gallery éf.


from same view point, 2006
---
---

19:00 Sun. 12 Mar.
Samm Bennett : percussion
Ned Rothenberg : woodwinds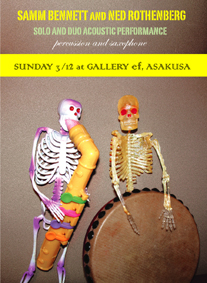 flyer by polarity design
admission: 2,000Yen
1drink ticket 500Yen at door
Samm Bennett's explorations in sound and rhythm are ever-changing and always interesting. Whether using drums and percussion, electronic instruments, voice, toys, gadgets, vibrators or whatever likely object happens to be close enough to grab, his performances continually surprise and engage his audiences. More info, sound files, etc.
Ned Rothenberg's intense focus on developing his own unique language for wind instruments (saxophones, clarinets and shakuhachi) has earned him high acclaim. His mastery of circular breathing and his creation of rich harmonic overtones are just two of the factors that make Ned's performances a delight for the listener.
Bennett and Rothenberg's concert at the historic Gallery ef will be a unique opportunity to hear these longtime collaborators perform in a completely acoustic, unamplified setting. Seating in the lovely and intimate gallery space is limited, and reservations are required.
---
---
24 Mar. - 16 Apr.
Hidetoshi Yamada
breath
drawings/ sketches
Hidetoshi Yamada started working as an artist for the Ozone Community in 1991 and following a series of solo exhibitions with them, in 1999 he moved to England. There, he developed his creative activities, mainly in London's East End, holding several well-received solo exhibitions of his work.
This exhibition "Breath" is Yamada's first exhibition of new work since his return to Japan, for which he has chosen "scenes of Tokyo" as his theme. Through his sketches, he brings viewers from Tokyo a new perspective on their hometown. As the title suggests, the work depicts everyday scenes and objects, the things which make up our daily lives. However, his work depicts these things in an affectionate and gentle manner. He transfers his drawings onto transparent film and colours them in from the reverse side: a technique he devised when he was in London so as to give emphasis to the liveliness of the line.
For this exhibition, while making a 1200mm wide collage of transparent film, he has produced approximately 30 large-scale works.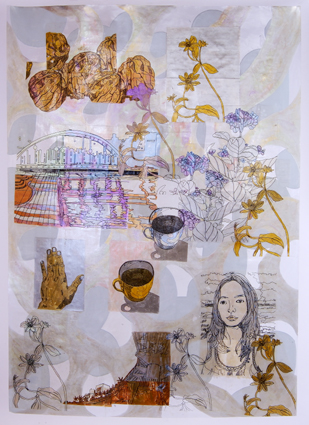 photo: Kohshu Sakai
---
ROUROU x Hidetoshi Yamada x Gallery éf
collaboration T-shirt
50 limited: 3,900 Yen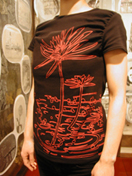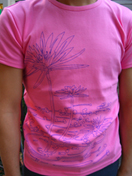 Ladies': black x pink Mens': pink x purple Japanese size
SOLD OUT
---
collaboration with Chinese traditional craft: paper cutting
10 limited edition: 15,000 Yen (frame included)
color: white, red, black, green, orange