10-28 Feb.
Gallery éf presents
French Advertise Poster Exhibition
French Year in Japan
supported by French Embassy
France is very famous for wine and fashion. So are they stylish ? Or snobbish ? We hardly know which is correct. For this exhibition, we displayed advertising posters from France. They gave us a new idea of France. Compared to English, less people can read French in Japan. So, we Japanese recognize the words on the posters as a part of the design, not as letters. Stereotypes of France may cause us to image its stylishness. We focused on the sensitivity in our ordinary life.
17-29 Mar.
Riko Kusanagi
The Message from Heart-man
ceramic
---
21 Mar.
Sha Sha Higby
Forest of The Sea of Trees
dance performance at Ohmi Gakudoh
produced by Gallery ef
sponsored by : GUDAN GARAM
collaboration artists: Kin Taii (visual)/ LOTO BOMBA (percassion)/ Fukagawa Baron Club (Bali instrument)

Sha Sha Higby approaches dance through the medium of sculpture. Using the painterly manipulation of materials and textures made one by one out of wood, silk, paper, URUSHI and gold leaf, interwoven with a labyrinth of delicate props, Higby's work creates a path in which movement and stillness meet. Shreds of memory lace into a drama of a thousand intricate pieces, slowly moving , stirring our memory toward a sense of patience and timelessness.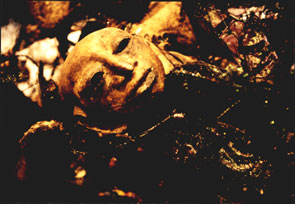 photo : Hideki Shiozawa
---
Apr.
Toshio Iwashita
Oni-Gura
computer graphics
---
Gallery éf the 2nd Anniversary Exhibition
21 Apr. - 23 May
Shin'ichi Yamashita
The Great Lovers
figure doll
concept/ produced by Gallery ef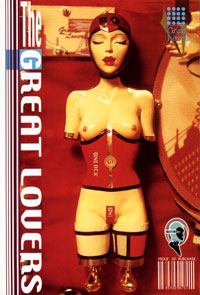 [The Great Lovers] is the title of a film which is supposed to be on theaters in 2035. This film itself is a fiction. Based on the film, [ Team Great Lovers ] made a story and Yamashita designed its characters.
There were 3 categories of figures. One was for the exhibition, not for sale. The next category was "collection dolls" which was made about 10 pieces and 10 series. These dolls were including of subculture goods such as body piercing, tattoo seal, vitamin drugs and other goods. Also, the posters, positive film, and pamphlet, and invitation card of the film were included. The last category was common figure.
photo: Hideki Shiozawa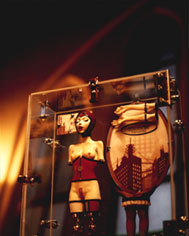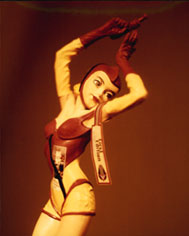 photo: Hideki Shiozawa
---
7 Jun. - 4 Jul.
Takamitsu Yamawaki
EXPOSURE Yamawaki Takamitsu
photograph
exhibition at cafe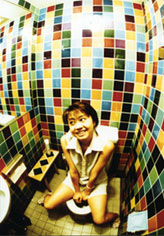 ---
7 Jul - 1 Aug.
2000 pieces of PEZ exhibition
PEZ A GO GO !
produced by Gallery ef
sponsored by MORINAGA Co., Ltd
cooperationed by PEZ Austria
starring: PCCJ (Pez Collectors Club Japan)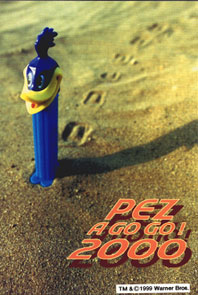 flyer photo: Takamitsu Yamawaki
It is over 70 years since PEZ, candies with a dispenser, came on the market. There are so many collectors of PEZ in the world. They are just disposable things, but 2000 pieces of them are so great to see. The exhibition introduced its history and showed old commercial films of Morinaga co., Japanese distributor of PEZ. This total exhibition of PEZ is the first time in the world.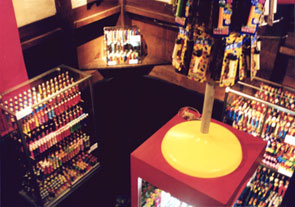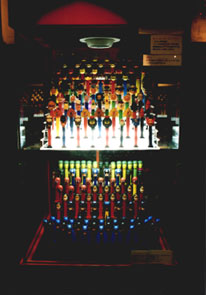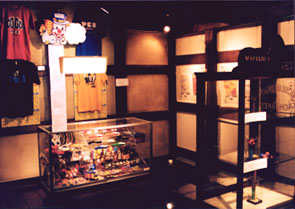 collaborate exhibition
EXPOSURE Yamawaki Takamitsu vol.2 - Scenery of PEZ
photograph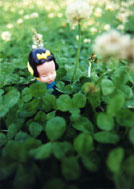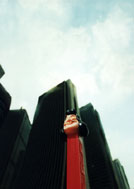 ---
4-29 Aug.
Shovel Head; Yasuhito Udagawa
The Day I Meet You
clay + metal object
Udagawa creates life form objets, such as insects, fish and animals, with tiny mechanical parts. He named them as "Mechanical Mutants".
Creating the body, he uses clay and wires. After painting with acryllic paint and lacquer, electrical parts are decorated. Parts are such as bolts, nuts and so on. It takes from 2 weeks to one and a half months to finish each work.
"Our life is getting more convenient with technological advance. On the other hand, so much material is wasted. If life forms evolve like machines, they might be called "Mechanical Mutants" . This is the first time that the artist has made figures based on legendary creatures.


Exhibition details http://www.ugauga.jp/museum/g3/koten02.html
jump to Shovel Head's website
Link to : Shovel Head work http://www.ugauga.jp/emenu.html
---
15 Sep. - 10 Oct.
ABSOLUT poster exhibition
ART BAR: ABSOLUT
produced by Gallery ef
cooperated by KIRIN SEAGRAM
The Swedish mother land gave birth to "absolute" vodka, ABSOLUT. Its novel advertising strategy caused a sensation, even in the art world.
Several years ago, ABSOLUT invited contributions for advertising art in Japan. This exhibition displayed that art work created by Japanese Artists.
Inside the gallery, an old English bar counter was installed and served ABSOLUT for visitors. The gallery was opened at 4 pm and people enjoyed the art and tasting Vodka.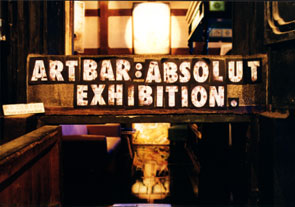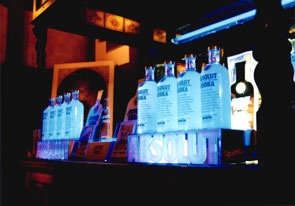 20 Oct. -7 Nov.
Gyoten Matsuzaki
"Gyoten Space - Heartbeats of Deep Forest"
Calimba (African instrument)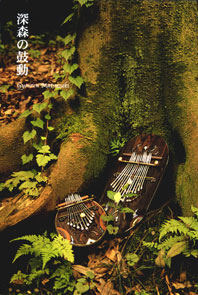 Gyoten Matsuzaki had been changing his way of expression. He designed advertising posters, creating craft works and objets. When he traveled to Yaku Island, he was overwhelmed by its nature. His mental journey made him make Carimba, African folk music instrument. He uses ostrich egg, Coconut seeds, and the body of an armadillo for resonance. Characteristic Carimba was made by technical craftwork and traditional Urushi art.
LIVE EVENT 30 Oct.
music party under the moonlight
didjeridu player: Makoto Takahashi + Gyoten matsuzaki
---
10 Nov. -5 Dec.
Alexandre Imai
Neo Century ASAKUSA
painting + photograph
cooperated by SJ office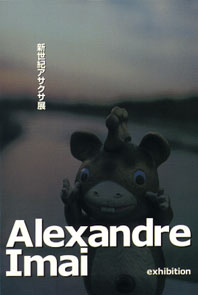 flyer design: ben graphique
Alexandre traveled Japan and the world with a doll of "monster Booska". He exhibited works taken in middle east and large format painting and hundreds of object.