9 & 10 March 2013
dance performance
3.10 - Words from 100,000 People
dance | Ikko Suzuki
sound collage | Kirara Kawachi
| | |
| --- | --- |
| | |
| 18:00 | 19:00 |
| | SOLD OUT |
admission: advance/ 3,000 Yen at door/ 3,200 Yen with 1 drink
Admission limited to 30 each

photo: Noken Daito
In the early morning of March 10th, 1945, eastern Tokyo was heavily bombed by the US air force. More than 100,000 people were killed that morning, with most of the victims being elderly, women, and children.
Artist Kirara Kawachi and dancer Ikko Suzuki have been collaborating since 2005 and putting on an annual performance to tell this story that should be shared with the modern world. The performance comprises testimonials by those who experienced the air raids, physical expression through dance, and the space located in Gallery éf, one of the only buildings that survived the bombing.
The Japan Times article by Chiho Iuchi (6 Mar. 2009) >>
produced by | Ikko Suzuki, Kirara Kawachi, Gallery ef
lighting | Tetra Logic Studio
sound operation | Jun'ichi Katoh
photograph | Noken Daito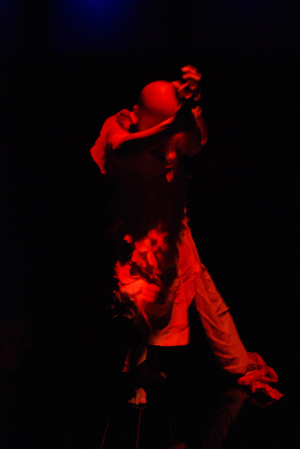 photo: Noken Daito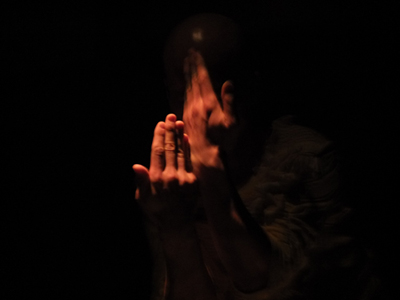 photo?Gallery ef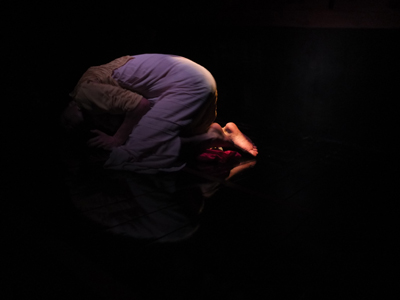 How to purchase tickets for the event:
easiest way: Advance tickets are available at the venue.
Or, please send us an email with the following information:
- The day of the event you're interested in
- The number of persons attending
- Your name and cell phone number
email >>
We'll respond immediately confirming if there is space available for your selected day.
Upon confirmation, please transfer the money for the tickets, within one week.
To transfer the funds please go to your local post office and tell them you wish to transfer money to the following Post Office account:
00180-8-408129 Gallery ef
When we confirm your money transfer we'll fix your reservation. If we don't receive the transfer within 10 days your reservation will be automatically canceled.
There are no refunds.
---

A week after the bomb attack during World War 2 in 1945. This photo was taken from the top of Matsuya Department Store. On the left is Sumida River and the small building in the middle is the warehouse - Gallery éf.
photo: courtesy of The center of the Tokyo Raid and War Damages


from the same view point, 2006