Artist Johan Peter Hol represents his world in closets, attics and boxes full of furry animals, animated cardboard scenes, armies of mice and disquieting drawings. Like a dusty playroom full of abandoned toys, his work creates a slightly grizzly fairy tale.
At first glance Hol's work looks playful and cheerful with an often childlike choice of material (clay, felt, paper, cardboard) and colours. They are presented by diverse measures such as drawing, paper cutout, porcelain, Mickey-headed embalmed animals, installation, animation film, etc. - above all, humanized animals consistently appear.
In his first solo exhibition in Tokyo in 2007 entitled "FORGOTTEN", Hol spotlighted forgotten existence, as a tribute to the ones became second-hand, abandoned, covered with dust, and lost to the eye of the world. Hol's work ever cuddles to what is being out of a group in the society.
Using them like an icon, Hol portrays human inner and reflects the world surrounding us. He touches a range of themes that we confront in our life.
"My work is not the book of Truth, neither the book of Light, it's a play room went wrong, forgotten by its creator. A place ajar where all its confused inhabitants strive for survival in a silent way" - says Hol.
In October 2009, Hol presents his new animation film "Gay Squirrel and the Tail/Tale of the Cat on the Moon" in Tokyo and Osaka. The film, telling the tale of a quest for one's attribute, is set in a closet that contains the universe. For the first time Hol investigates his own sexuality. It has never been pronounced literally in his oeuvre.
Part of the installation are a three-dimensional 3.5 m high Gay Squirrel (Gallery ef) & a 2.8m high Tailless Cat (studio J). Additionally there will be a series of hand painted posters and action figures of the film characters.
PREMIERE/ opening reception | 19:00-21:00 Thu. 15 Oct.

---
co-hosting venue | studio J (Osaka)
3 - 24 October
13:00-19:00
closed on Sanday, Monday & Tuesday
3-14-8 Shinmachi, Nishi-ku, Osaka-Shi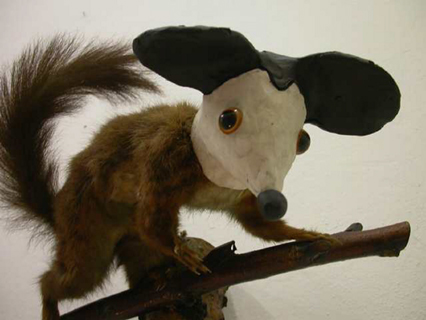 FORGOTTEN