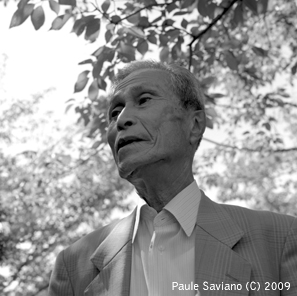 Sumiteru Taniguchi | Nagasaki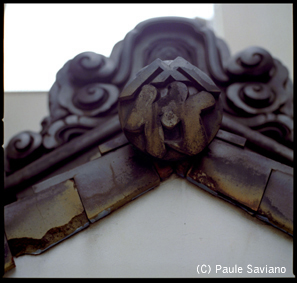 Gallery ef rooftile
Paule Saviano is a photographer based in New York City. In 2007, he held his first exhibition in Japan, called "Striptease Burlesque". He returned to Japan in the autumn of 2008, visiting Nagasaki city and Tokyo to photograph his next project. The subjects were survivors of the Nagasaki atomic bomb and Tokyo Air Raid in 1945.
Saviano wanted to understand these historic tragedies from the aspect of humanity, not only as an objective fact. As a photographer, he realized meeting the survivors and photographing their portraits was the only way to understand these historical facts.
Saviano met 17 survivors in Nagasaki city and Tokyo. What happened to them 64 years ago? How have they lived on since then? He carefully listened to each survivor's story and released the shutter. What he captured was not their physical scars caused by the bombings, but their feelings to live on, that appeared momentarily in their natural facial expression.
A photography exhibition, "FROM ABOVE" introduces 21 photographs, mainly portraits of 17 survivors. The venue is Gallery éf, that uses a warehouse built at the end of Edo era and endured the ferocious fire of Tokyo Air Raid, as an art space. A young American photographer confronted the "present day" of people who encountered tragedy from above, and traces of his journey are shown in a space that memorizes the Air Raid.
New York native Paule Saviano has been snapping photographs since he was 12 years old. He obtained a Bachelor of Arts degree in two majors; Visual Media and Political Science from the American University (1996) in Washington, DC.
Since than he's been published in magazines around the globe and has accepted every kind of photography assignment from fashion to landscape until settling into portrait photography. His photographs have appeared in magazines such as Faces (Switzerland), Belio (Spain), Mono (Japan), Resonance (USA), Talk (Australia), Index (USA), and numerous others. He's criss-crossed the world photographing many personalities and bands such as Marilyn Manson, Radiohead, and AC/DC to name a few.
Paule has had solo exhibitions at galleries in Tokyo, New York, Shanghai, London, Helsinki, and Italy. He continues to produce images that blend realism and surreal fantasy.
His most recent projects involve portraits of atomic bomb Survivors at Nagasaki and Tokyo fire bombing Survivors of 1945. His series on striptease burlesque artists in the rising underground burlesque scene has been exhibiting around the globe for 3 years. Paule continues to travel the globe to produce images. His portfolio can be seen at www.paulepictures.com .
LINK to Striptease Burlesque @ Gallery éf 2007 >>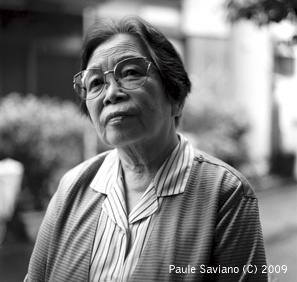 Kazuyo Funato | Tokyo